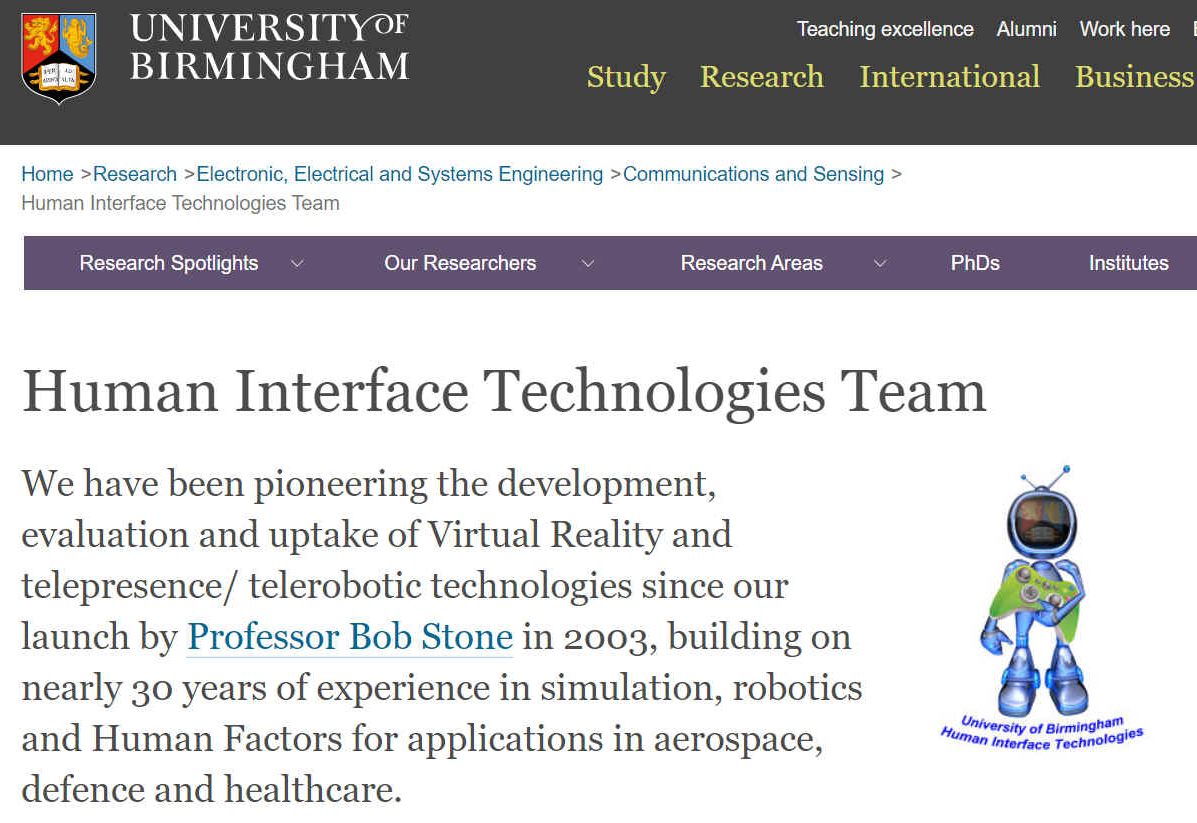 BIRMINGHAM UNIVERSITY - Is a Mayflower MAS400 partner. The design appears to have evolved from these early artists impression and a quoted 100 feet (31m) to 49 feet (15m).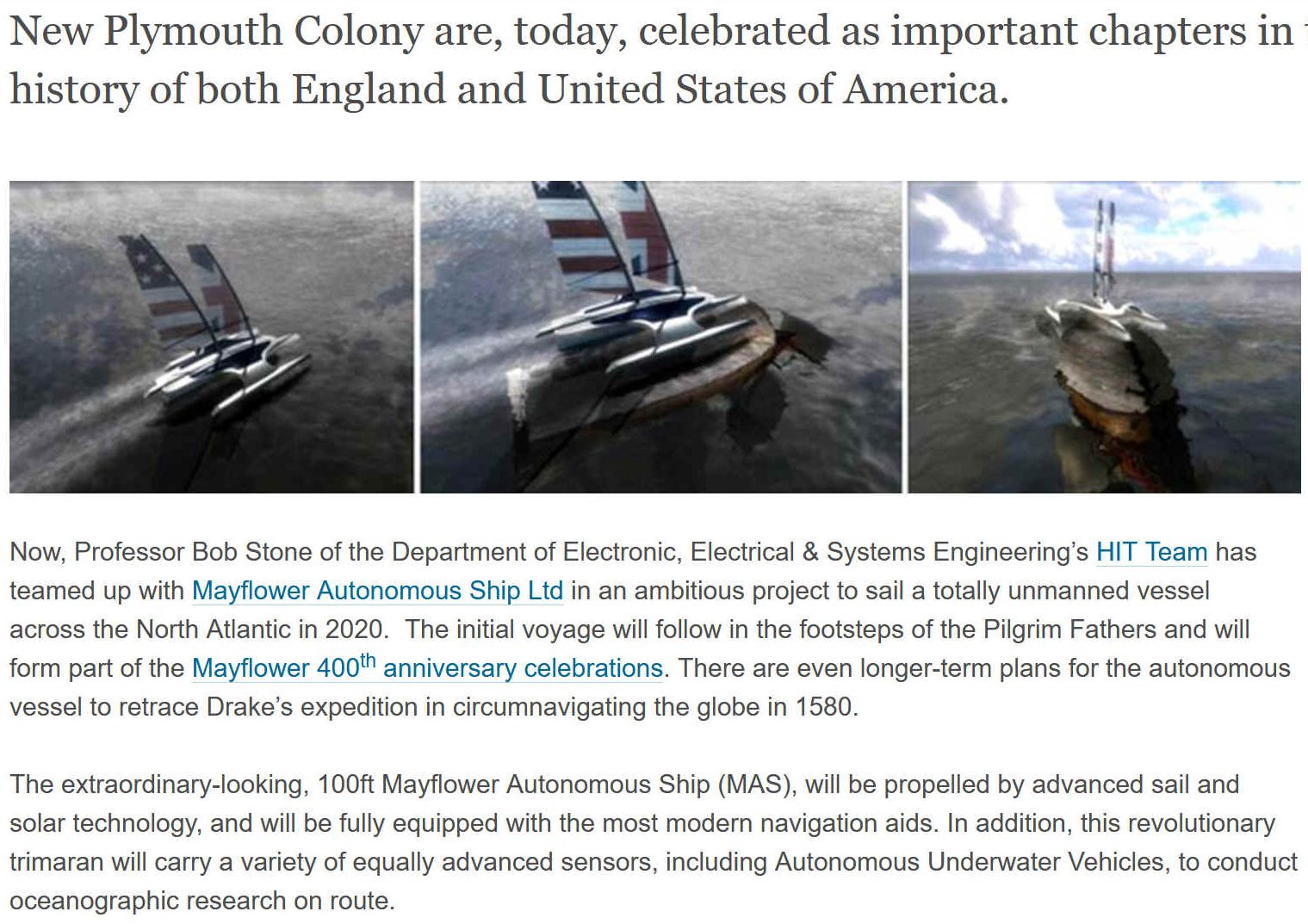 EXTREME ROBOTICS - The Human Interface Technologies (HIT) Team, based within the Extreme Robotics Laboratory at the University of Birmingham, has been pioneering the development and uptake of Virtual, Augmented and Mixed Reality, together with telerobotic technologies in the UK since 2003, building on over 32 years of experience in those domains. The Team's award-winning research is helping to avoid the "technology push" failures evident in the 1980s, '90s and early 2000s by developing and evaluating demonstrators in defense, healthcare, heritage and advanced robotics that emphasize the importance of exploiting human factors knowledge during the design of innovative human-system interfaces.


16 JAN 2017 - RETRACING JOURNEY OF THE PILGRIMS AUTONOMOUSLY

In 1620, over 100 English Separatists embarked on a life-changing adventure, sailing from Plymouth in South West England to the New World on the other side of the Atlantic. The arrival of the Mayflower and the establishment of the New Plymouth Colony are, today, celebrated as important chapters in the history of both England and United States of America.

Now, Professor Bob Stone of the Department of Electronic, Electrical & Systems Engineering's HIT Team has teamed up with Mayflower Autonomous Ship Ltd in an ambitious project to sail a totally unmanned vessel across the North Atlantic in 2020. The initial voyage will follow in the footsteps of the Pilgrim Fathers and will form part of the Mayflower 400th anniversary celebrations. There are even longer-term plans for the autonomous vessel to retrace Sir Francis Drake's expedition in circumnavigating the globe in 1580.

The extraordinary-looking, 100ft Mayflower Autonomous Ship (MAS), will be propelled by advanced sail and solar technology, and will be fully equipped with the most modern navigation aids. In addition, this revolutionary trimaran will carry a variety of equally advanced sensors, including Autonomous Underwater Vehicles, to conduct oceanographic research on route.
Together with researchers from Professor Peter Gardner's Communications & Sensors group, the HIT Team aims to develop a "Mixed Reality" (MxR) system that will allow the remote 'crew' of the Mayflower to not only see the view from onboard, but operate onboard systems and conduct remote diagnosis. A similar system will allow members of the public and schoolchildren experience the historic transatlantic crossing.

The MxR system design is based on a number of successful recent projects undertaken over the past 2 years for BAE Systems and the Ministry of Defence. Addressing the future of command and control for military tactics and counter-insurgency, the HIT Team developed a unique test bed designed to investigate the human factors aspects of MxR.
End users are able to don a head-mounted display and, courtesy of an optical motion capture system, visualise an evolving 3D scenario on an otherwise empty table in front of them. They are able to interact with the 3D display using gestures or special 3D-printed "pucks" and are presented with other sources of data, including video from remote aerial and land-based robots, even television news feeds, in the form of "floating windows", appearing around the immediate workspace.

Professor Stone is quoted as saying:

"We are already working with colleagues within the Mayflower 400 teams to develop a VR reconstruction of the iconic Mayflower of the 1600s. This project with MAS Ltd, together with our recent VR reconstructions of their vessel at sea, will help to show off the "then and now" aspects of this historic event in 2020."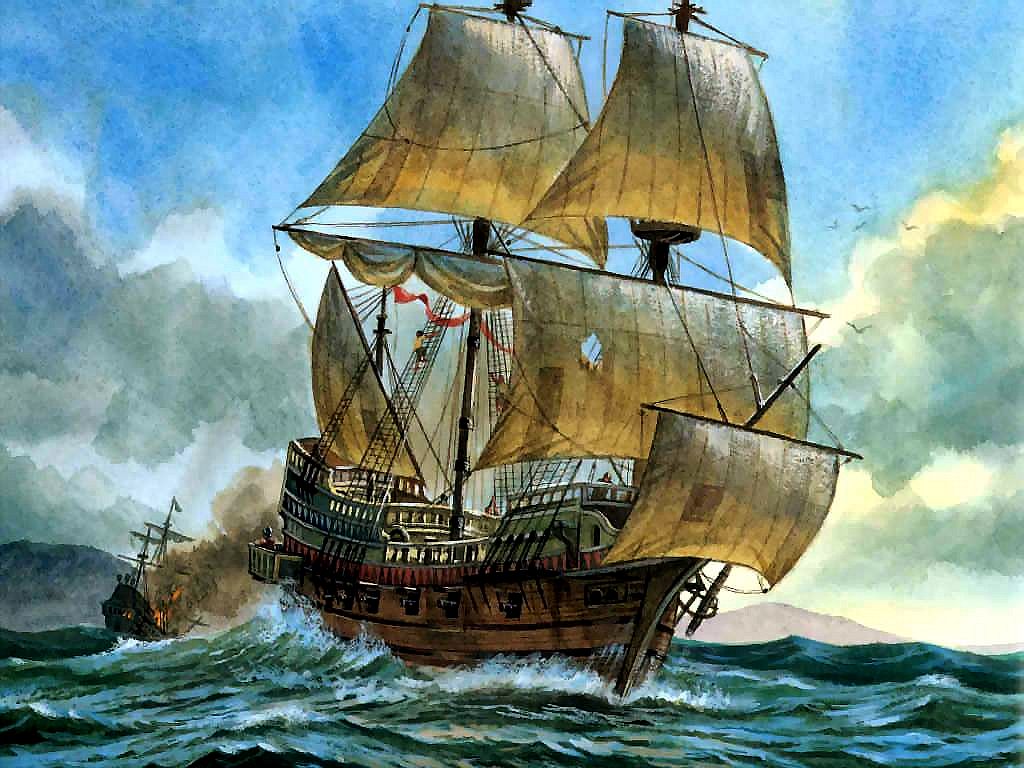 DECEMBER 1 2015 - BIRMINGHAM TO SUPPORT HISTORIC 2020 MAYFLOWER 400 CELEBRATIONS

The University of Birmingham's Human Interface Technologies (HIT) Team has been chosen to lead a project which will result in the development of a series of exciting Virtual and Augmented Reality experiences. The team chosen by Mayflower 400 group in Dartmouth UK will focus on the sailing of the iconic ship Mayflower, from England to the New World. This voyage will be central to the 400th anniversary celebrations in 2020, commemorating the sailing of the Pilgrims from the Dartmouth port 400 years ago.

The project will create a virtual recreation of Mayflower which, when completed, will enable people to explore the decks of the ship as though they are actually on board.

The appointment of the HIT Team is a result of a pioneering maritime heritage project conducted in 2014, when the Birmingham Researchers successfully developed a highly detailed Virtual Reality (VR) model of the 17th Century Ship of the Line, the Anne. The ship, which was deliberately scuttled to prevent capture by the French after the Battle of Beachy Head in 1690, still exists on Pett Level Beach near Hastings.

The virtual recreation of the ship was undertaken using 3D modelling and advanced VR techniques. As part of a world-first Augmented Reality demonstration, the 3D ship was "resurrected" at the site of the actual wreck and, uniquely, visualised using the video feed from a small quadcopter. This allowed observers to see Anne from the air in her final resting place.

As part of a world-first Augmented Reality demonstration, the 3D ship was "resurrected" at the site of the actual wreck and, uniquely, visualised using the video feed from a small quadcopter. This allowed observers to see Anne from the air in her final resting place.

Professor Stone's team has already demonstrated a scaled-down version of the Virtual Mayflower in the form of Virtual and Augmented Reality scenarios. This process will now be taken further to achieve the same level of detail that was achieved with the Anne.


Professor Bob Stone, the HIT Team's Director is quoted as saying:
"We are incredibly proud to have been selected to take part in this historically important celebration and look forward to delivering a digital experience that will benefit visitors to Dartmouth and the other Mayflower 400 towns for many years to come.

But rather than this simply being another VR ship reconstruction exercise, we have plans in place that will involve our researchers working with the wider community in Dartmouth, including local artists and schoolchildren of the Town's Academy, not to mention their counterparts in Dartmouth, USA.

Together, we will develop a series of educational experiences, many actually fronted by historic avatars – virtual personalities of the time, if you will – that will not only bring the Mayflower of the 1600s back to life, but will also bring the two transatlantic towns closer together in 2020."


Rob Lyon, Dartmouth's Town Mayor and Chairman of the Mayflower 400 Group is quoted a saying that he was delighted that Professor Stone had agreed to join their team:
"We wanted to have something tangible to show for our efforts in planning this extraordinary project. It isn't just about organising events that only live on in people's memories, for us it is leaving something worthwhile."

"The Pilgrims, who were only with us for eight days, left an amazing legacy in the shape of the United States of America that we know today. And, once the VR experience is completed, we will be more than happy to share it with other towns and schools so as many young people as possible will benefit from Professor Stone's talents."
CONTACTS
The University of Birmingham
Edgbaston
Birmingham
B15 2TT
United Kingdom

Tel: +44 (0)121 414 3344
Fax: +44 (0)121 414 3971
Professor Bob Stone
Director of Human Interface Technologies Team
Chair in Interactive Multimedia Systems
Electronic, Electrical and Syatems Engineering
University of Birmingham

Tel. (Office): (+44) (0)121 414 7395
Tel. (Mobile): (+44) (0)7740 858901
E-mail: r.j.stone@bham.ac.uk or profbobstone@aol.com

https://instagram.com/unibirmingham/
https://www.facebook.com/unibirmingham
https://twitter.com/unibirmingham
https://www.youtube.com/user/unibirmingham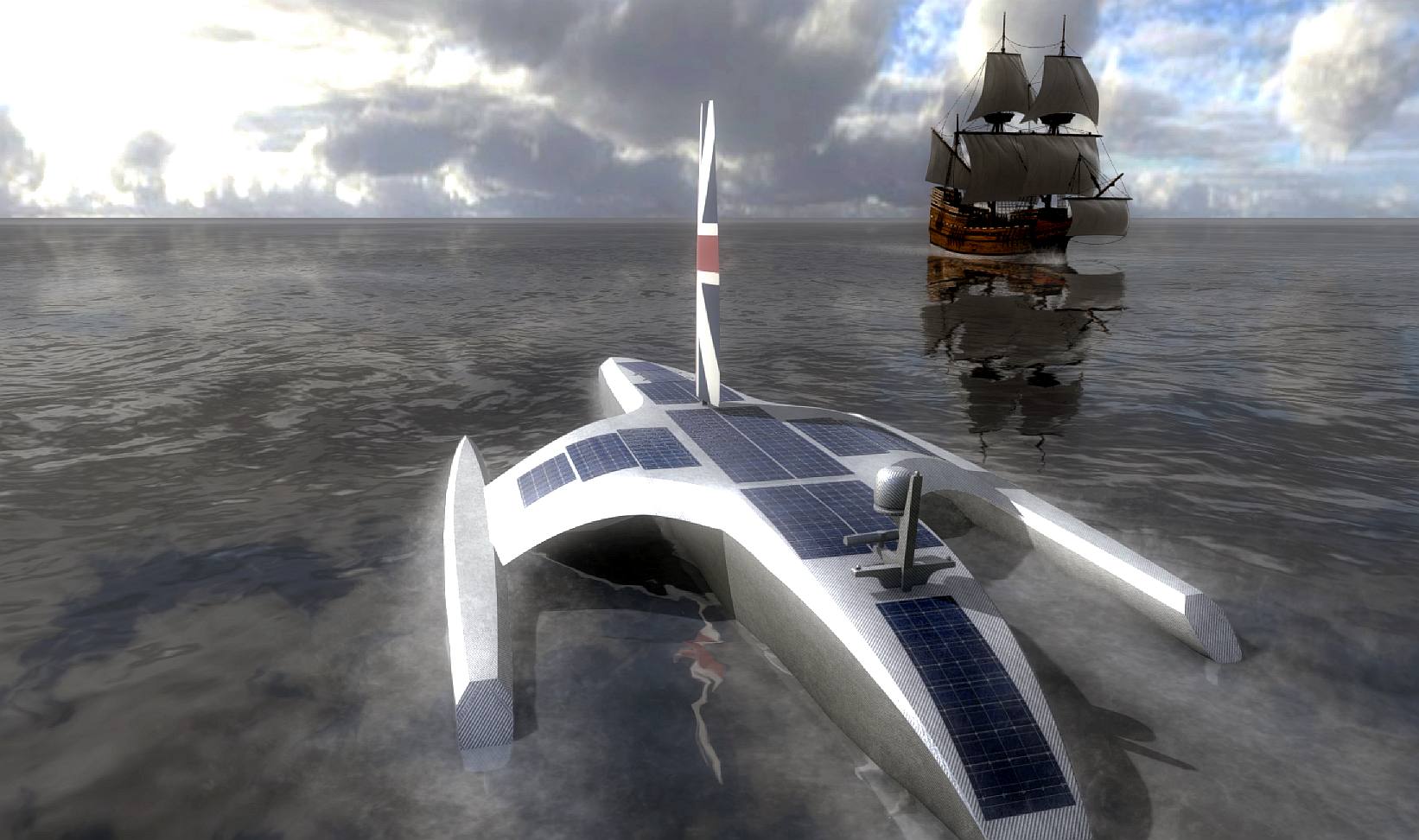 LINKS & REFERENCE
https://www.birmingham.ac.uk/research/activity/eese/communications-sensing/hit-team/index.aspx
https://www.birmingham.ac.uk/schools/engineering/eese/news/mayflower.aspx
http://mayflowerhistory.com/voyage/
https://www.birmingham.ac.uk/schools/engineering/eese/news/mayflower.aspx
https://www.birmingham.ac.uk/index.aspx
https://mas400.com/
https://newsroom.ibm.com/then-and-now