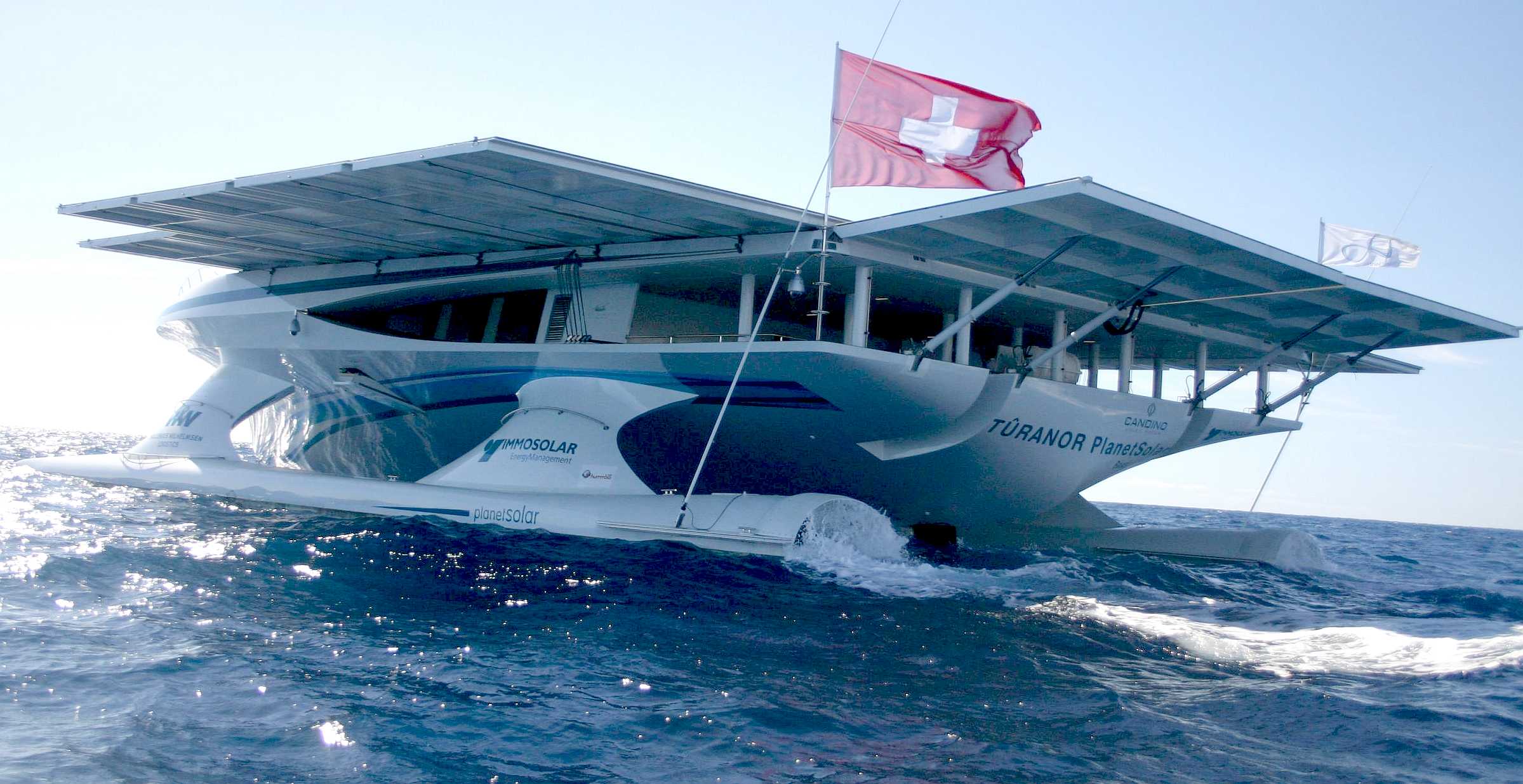 PlanetSolar heading out into uncharted technical waters. The theory was in place, but nobody knew if this solar powered boat could make it. But they did! The solar panel area on this ship was increased with solar panels on rollers, pulled out by the crew using winches. The Elizabeth Swann uses robotics and hydraulics to move solar wings that automatically track the sun, and fold away in storm conditions.
WP2. PLATFORM DESIGN
To design a test-bed platform of a suitable size (43- 54m yacht) that may support blue water trials for the purpose of demonstrating that electric trans: Atlantic, Indian and Pacific Ocean commercial shipping might be autonomously solar and wind powered with a suitable reserve battery storage capacity.

To tank test a 1:10 scale model of the proposed platform for stability.
To conduct CFD optimization on the proposed trimaran hull configuration.
To conduct simulations of operations in the Atlantic ocean (prior to actual sea trials) to compare rotary sail performance against wing sails, both working with the proposed solar wings - as plug & play options. Work boats are thought to benefit most from a rotary sail/solar wing arrangement, where cargo vessels may benefit from wing sails and solar wings.
Once the technology is firmed up, to stress the main hull sections and superstructure for build in 5083 aluminium.
To stress other hull parts for possible construction in lighter composites.
To programming onboard robotic AI to operate the energy harvesting apparatus.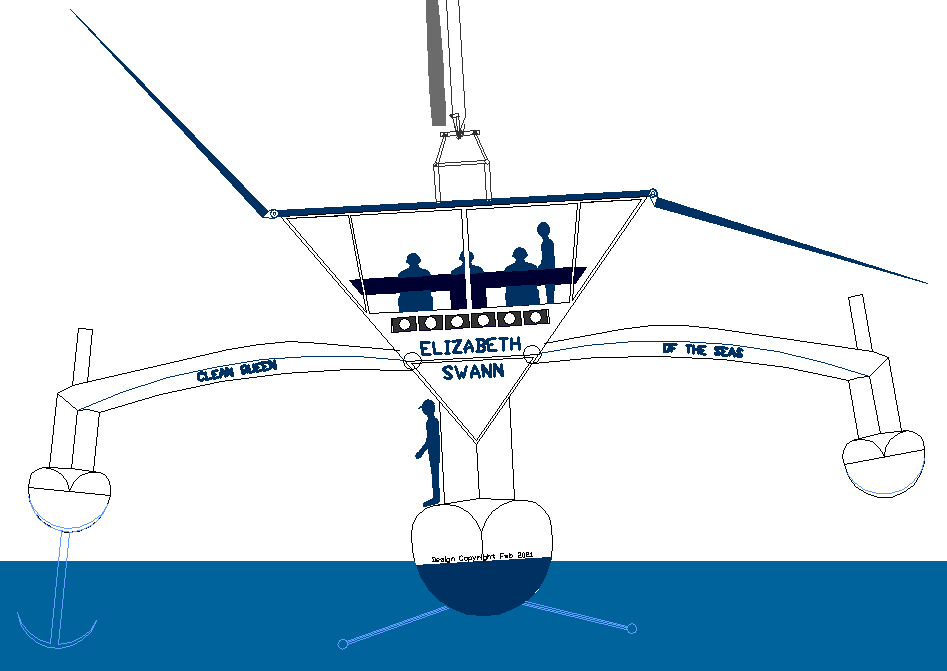 HYDROFOILS TO COUNTERACT ROLL - This is a proposal to reduce wave drag by including retractable hydrofoils onto cantilevered sponson arms. The vessel is considered to be too heavy and slow (underpowered) to really reap the rewards of foil sailing. But fine tuning of hull trim and stabilization may be beneficial.

WP1. PROJECT MANAGEMENT
WP2. PLATFORM DESIGN
WP3. PLATFORM BUILD
WP4. GIS, GEOSPATIAL AI INCORPORATION
WP5. SATELLITE CYBER SECURITY, CLOUD, IoT
WP6. SHAKEDOWN TRIALS IN THE ENGLISH CHANNEL
WP7. DATA HARVESTING DURING HIGH SPEED RUNS/RECORD ATTEMPTS
WP8. PERFORMANCE PREDICTION FROM ASSIMILATED ANALYZED DATA
WP9. DATA DISSEMINATION
WP10. CASTING OFF & UNMANNED DOCKING
WP11. ONBOARD/OFFBOARD VESSEL SECURITY
WP12. AUTONOMOUS CIRCUMNAVIGATION ATTEMPT
WP13. COLREGS COMPLIANCE LAW & LOBBYING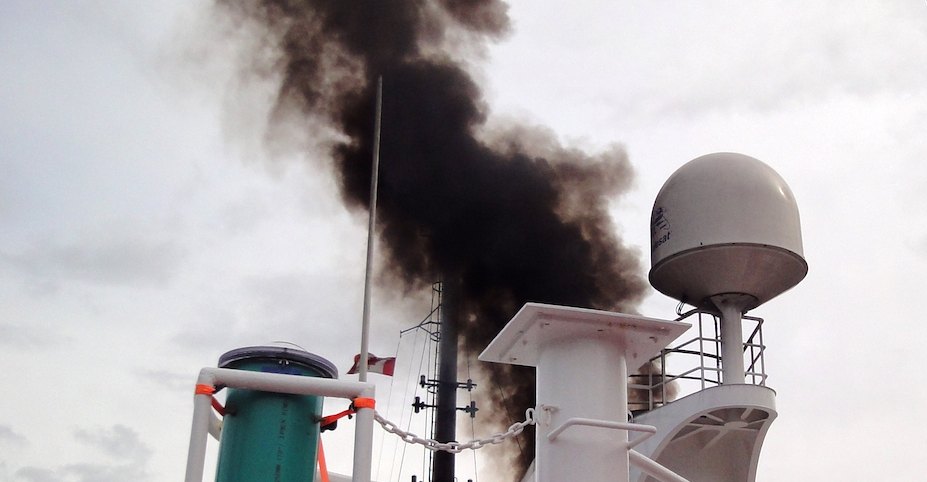 The Cleaner Ocean Foundation works to help protect the "seven seas" from the effects of anthropogenic atmospheric pollution like this ship that is belching diesel fumes like there is no tomorrow. We'd like to preserve tomorrow for our children. You can help us to make this scene a thing of the past.
WHY ARE WE DOING THIS?
Because we can, and because we can, we must.