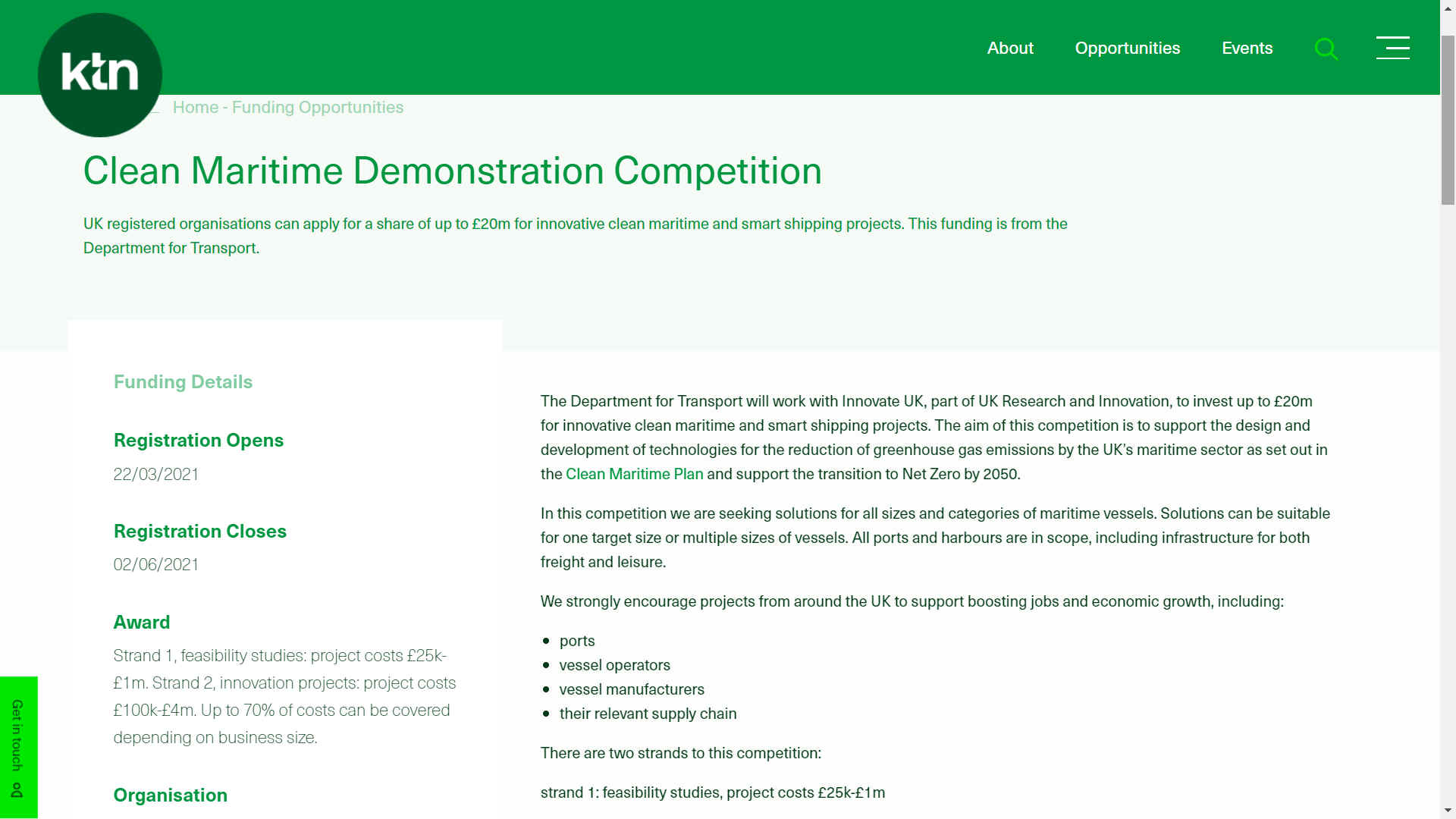 The Clean Maritime Demonstration Competition is designed to accelerate clean shipping development in line with the DfT's 2050 IMO compliant Plan, links to which are at the foot of this page. This is just as tough a challenge as electrifying land transport, both strands ultimately in competition for renewable green hydrogen, from electrolyzers.
Registration Opens: 22/03/2021 - Registration Closes: 02/06/2021

For Strand 1, your project must have total eligible costs between £25,000 and £1,000,000. Projects must start by 1 September 2021, last up to 7 months and end by 31 March 2022. It's a very tight window, that you must be able to work within to stand a chance of securing a percentage of development funding.



BACKGROUND & SUPPORTING INFORMATION

The Prime Minister's Ten Points Plan speech for a Green Industrial Revolution announced this £20 million for a competition to develop clean maritime technology.

This one-year 'springboard programme' will lay the foundation for a network of real-world projects, gearing up maritime decarbonisation in the UK ahead of COP26.

This programme builds on the vision set out in the Department's Clean Maritime Plan and underlines our commitment to addressing emissions from this sector.

Winning projects from this competition may be required to participate in and attend London International Shipping Week in September 2021 and COP26 in November 2021, including initiatives around these events and communications activity.

Any information received by Innovate UK for this competition may be shared with the Department for Transport and the Maritime and Coastguard Agency. Innovate UK has a data sharing agreement in place with these bodies which safeguards both personal and commercial data in accordance with data protection legislation.

Contact Innovate UK

If you need more information about how to apply email support@innovateuk.ukri.org or call 0300 321 4357.

Their phone lines are open from 9am to 11:30am and 2pm to 4:30pm, Monday to Friday (excluding bank holidays).

Innovate UK is committed to making support for applicants accessible to everyone.

They can provide help for applicants who face barriers when making an application. This might be as a result of a disability, neurodiversity or anything else that makes it difficult to use such services. They can also give help and make other reasonable adjustments for you if your application is successful.

If you think you need more support, it is important that you contact their Customer Support Service as early as possible during your application process. You should aim to contact them no later than 10 working days before the competition closing date.

Finding a project partner

If you want help to find a project partner, contact the Knowledge Transfer Network.

Support for SMEs from Innovate UK EDGE

If you receive an award, you will be contacted about working with an innovation and growth specialist at Innovate UK EDGE. This service forms part of our funded offer to you.

These specialists focus on growing innovative businesses and ensuring that projects contribute to their growth. Working one-to-one, they can help you to identify your best strategy and harness world-class resources to grow and achieve scale.

Innovate UK encourage you to engage with EDGE, delivered by a knowledgeable and objective specialist near you.


APPLY: STRAND 1 (feasibility studies, £25k-£1m)
SUMMARY - ELIGIBILITY - SCOPE - HOW TO APPLY - SUPPORT - COSTS - EDGE
APPLY: STRAND 2 (innovation projects, £100k-£4m)

SUMMARY - ELIGIBILITY - SCOPE - HOW TO APPLY - SUPPORTING INFO

SDGs 13 CLIMATE & 14 OCEANS : The Elizabeth Swann is shown above is a zero emissions vessel, designed to use only solar and wind power for propulsion, to help nations meet their sustainability development goals (SDGs), as per the Accord de Paris in 2015.
CLEAN MARITIME PLAN INTRODUCTION: 1 - 13
SECTION 1 - TACKLING EMISSIONS: 14 - 50
SECTION 2 - OUR APPROACH: 51 - 58
SECTION 3 - ECONOMICS: 59 - 95
SECTION 4 - INFRASTRUCTURE: 96 - 120
SECTION 5 INNOVATION: 121 - 129
SECTION 6 - REGULATION: 130 - 138
SECTION 7 - NEXT STEPS: 139 - 140
MAP - THE 2050 PLAN RECOMMENDATIONS
The Department for Transport will work with Innovate UK, part of UK Research and Innovation, to invest up to £20m for innovative clean maritime and smart shipping projects. The Secretary of State in 2018 was Chris Grayling, Minister for Marine, Nus Ghani, and Sec. of State from 2019; Grant Shapps.
In 2019 the International Maritime Organization set revised MARPOL targets, aiming to cut Nitrous, Sulfurous and Carbon emissions from dirty bunker fuels by 50% before 2050, and 100% by 2100, recognising that air pollution from shipping would increase considerably if not curbed.
Horizon Europe is the EU's €100 billion euro research and innovation programme, the European equivalent of UKRI, 35% of which is allocated to achieving climate objectives under the UN's SDG13 & SDG14 agendas, but where funding applications are extremely complicated, and SMEs inevitably fall at the admin and finance hurdles.
LINKS & REFERENCE
https://www.innovateukedge.ukri.org/
https://ktn-uk.org/opportunities/clean-maritime-demonstration-competition/
Please use our A-Z INDEX to navigate this site