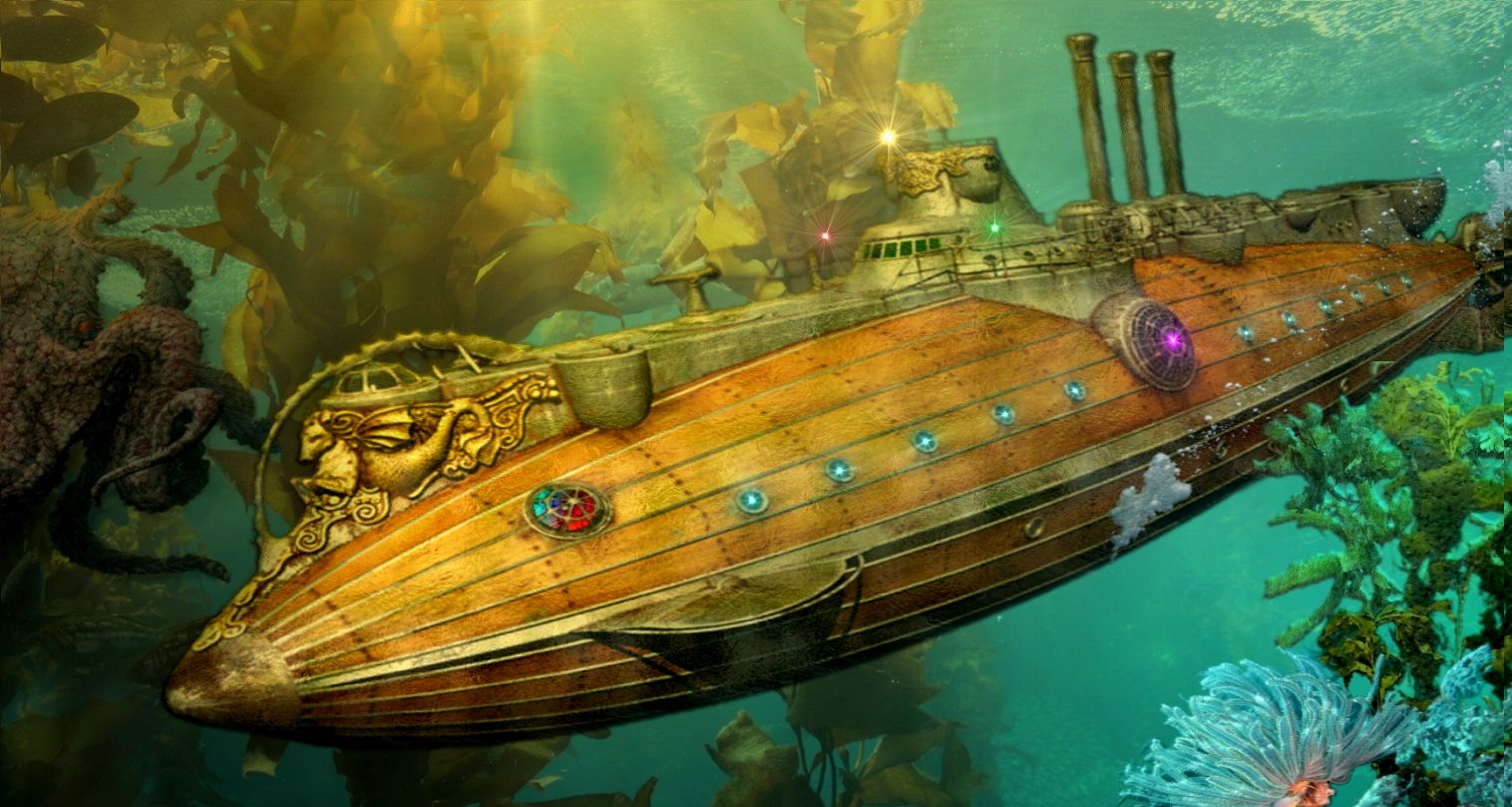 Best known for '20,000 Leagues Under the Sea' and Around The World In Eighty Days, Jules Verne also authored a number of other popular novels, that made it onto the big screen, such as 'The Mysterious Island,' and 'Journey To The Centre Of The World.'
Les Tribulations d'un Chinois en Chine (French: Les Tribulations d'un Chinois en Chine) is an adventure novel by Jules Verne, first published in 1879. The story is about a rich Chinese man, Kin-Fo, who is bored with life, and after some business misfortune decides to die.
PLOT
Kin-Fo is an extremely wealthy man who certainly does not lack material possessions. However, he is terribly bored and when news reaches him about his major investment abroad, a bank in the United States, going bankrupt, Kin-Fo decides to die. He signs up for a $200,000 life insurance covering all kinds of accidents, death in war, and even suicide; the philosopher Wang (Kin-Fo's old mentor) and Kin-Fo's fiancée are to be the beneficiaries. He rejects seppuku and hanging as means of dying, and is about to take opium laced with poison when he decides that he doesn't want to die without having ever felt a thrill in his life. Kin-Fo hires Wang (actually a former warrior of the Taiping Rebellion) to murder him before the life insurance expires.
After a while news reaches Kin-Fo that the American bank he had invested in was not bankrupt, but instead had pulled off a stock market trick and is now wealthier than ever. Unfortunately, Wang has already disappeared. Together with two bodyguards assigned by the insurance company, and his loyal but lazy and incompetent servant Soun, Kin-Fo travels around the country in an effort to run away from Wang and the humiliation from the affair.

One day he receives a message from Wang, stating that he can't stand the pain of having to kill one of his friends, and instead decided to take his own life while giving the task of killing Kin-Fo to a bandit he once knew. Kin-Fo, Soun and the two bodyguards now try to get to the bandit, planning to offer money in return for his life. The ship they travel with is hijacked, and they are forced to use their life vests with built-in sails to return to land.

After being kidnapped by the bandit they were looking for, they are blindfolded and returned to Kin-Fo's home, where his old friends (including Wang, who we now find out staged this entire history to teach him a lesson about how valuable life is) are waiting for him. He marries his young, beautiful fiancée after all and they live happily forever after.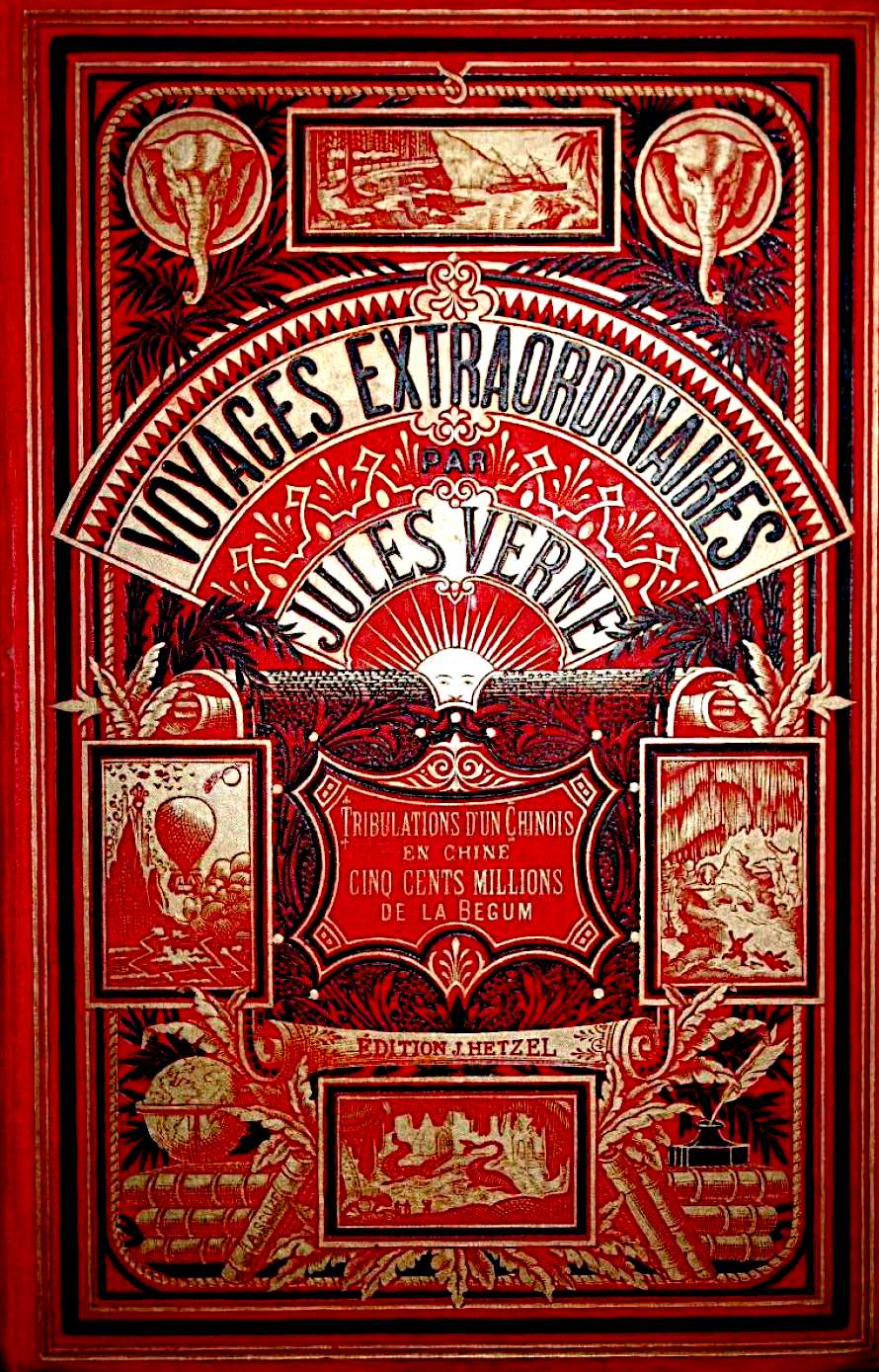 The book is a traditional adventure, similar in style to Around the World in Eighty Days, which is one of the author's more well-known books. However, it does contain more humour as well as criticism of topics such as the British opium trade in China.
Jules Verne was the author of many adventure stories:
1 Twenty Thousand Leagues Under the Sea
2 Around the World in Eighty Days
3 Journey to the Center of the Earth
4 The Mysterious Island (Extraordinary Voyages #12)
5 From the Earth to the Moon
6 Michael Strogoff (Extraordinary Voyages, #14)
7 In Search of the Castaways; or the Children of Captain Grant (Extraordinary Voyages, #5)
8 Five Weeks in a Balloon
9 Round the Moon (Extraordinary Voyages, #7)
10 Adrift in the Pacific: Two Years Holiday (Extraordinary Voyages, #32)
11 The Master of the World (Extraordinary Voyages, #53)
12 The Adventures of Captain Hatteras
13 Les Tribulations d'un Chinois en Chine; The Tribulations of a Chinese in China (Extraordinary Voyages, #19)
14 The Lighthouse at the End of the World
15 Mathias Sandorf (Extraordinary Voyages, #27)
16 Off On A Comet (Extraordinary Voyages, #15)
17 Los quinientos millones de la Begún (The five hundred million of the Begún)
18 Facing the Flag (Extraordinary Voyages, #42)
19 Un capitán de quince años (A fifteen year old captain)
20 El Testamento de un excentrico (The Testament of an eccentric)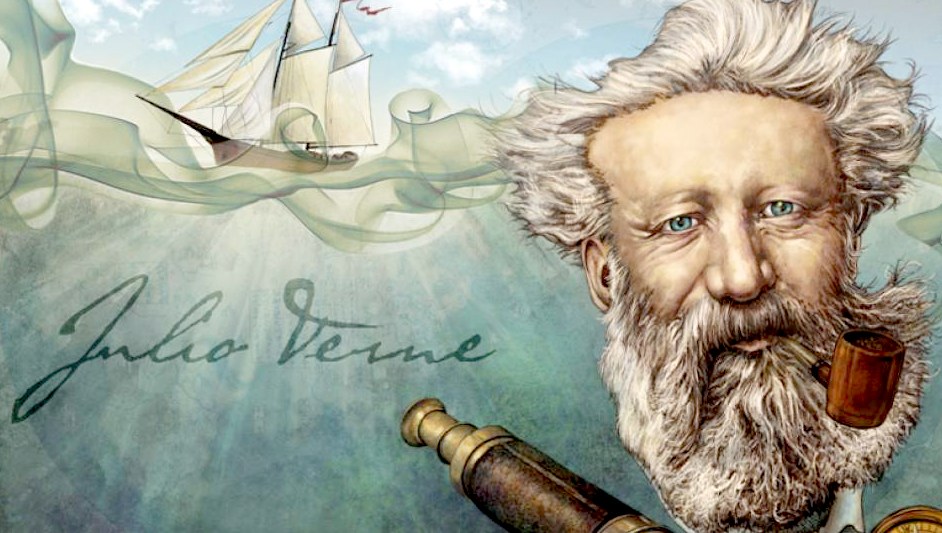 Jules Verne is also known as the Father of Science Fiction

ZEWT ALORS - The solar and wind powered 'Elizabeth Swann' will feature solar collectors and wind energy harvesting apparatus in an advanced configuration. Her hull configuration is ideal for mass hydrogen storage tanks, offering ranges of up to 4,000nm on compressed gas, and could circumnavigate the globe on one fill up of liquid hydrogen, stored in two cryogenic tanks. Unfortunately, at this stage not in under 80 days, to equal the famous Jules Verne round the world record.
It was Jules Verne's fictional character, 'Philleas Fogg', who suggested that it might be possible to travel Around The World In 80 Days. But what about doing it in a Zero Emission yacht driven by electric hydro-jets? With the advent of solar power and liquid hydrogen, it is a distinct possibility - on a scale of the wager that the legendary Philleas Fogg entered into at the Reform Club in 1872.
In 1874, Jules Verne set out a prescient vision that has inspired governments and entrepreneurs in the 147 years since. In his book The Mysterious Island, Verne wrote of a world where "water will one day be employed as fuel, that hydrogen and oxygen which constitute it, used singly or together, will furnish an inexhaustible source of heat and light, of an intensity of which coal is not capable."
In 2021 we have the technology to make that foretelling a reality, to include using hydrogen to travel around the world in 80 days.
JULES VERNE LINKS & REFERENCE
http://jules-verne.org/
http://filmsactorsmoviestars.com/