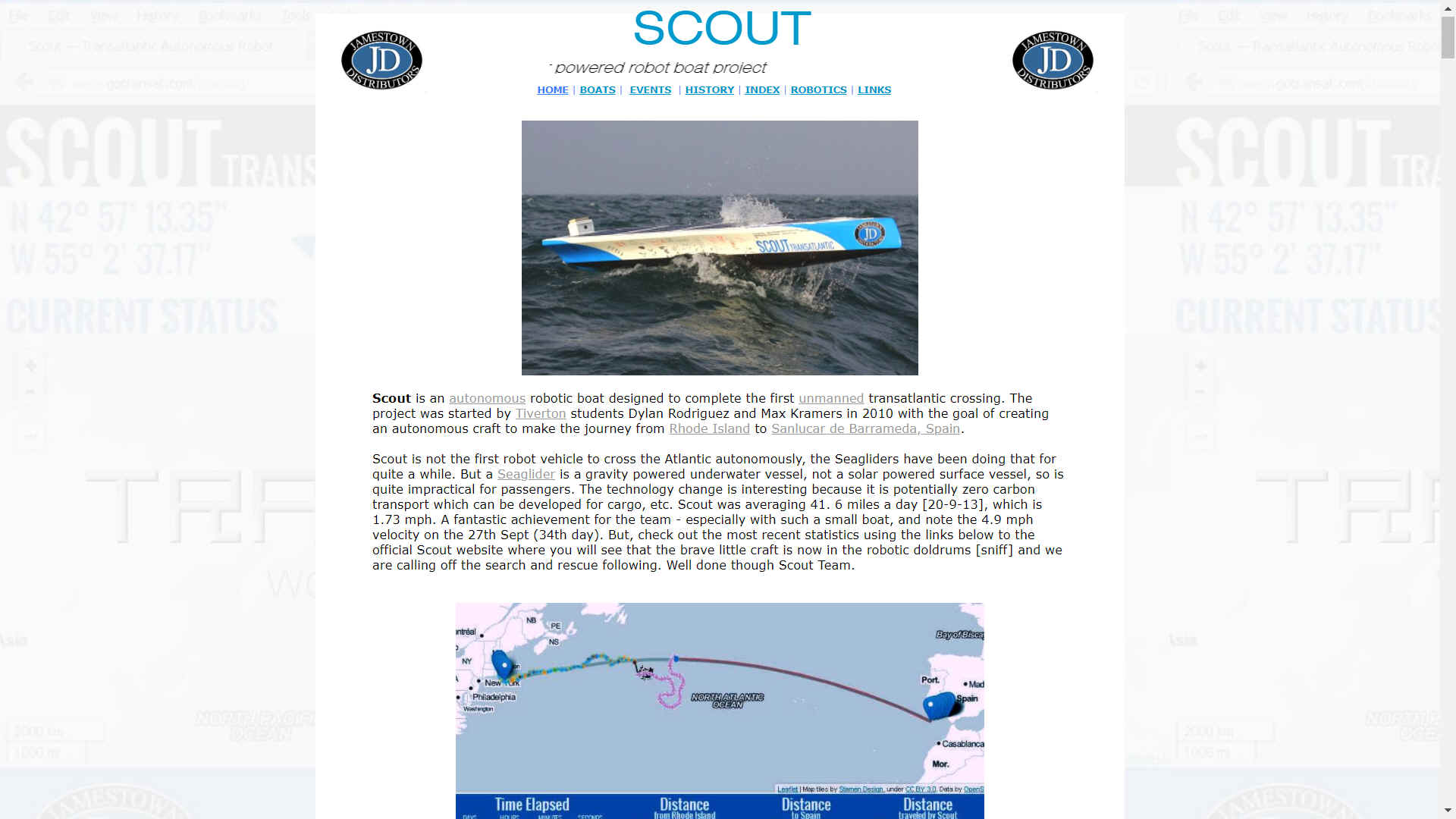 SCOUT TRANSATLANTIC - Was a brave attempt to cross the Atlantic using an unmanned electrically propelled vessel, powered by solar panels. Well done chaps.
"Scout" was a robotic boat designed to cross the Atlantic Ocean and reach Spain - a small boat on a big journey. It was lost at sea and never recovered.

Scout, was a 13 foot long carbon fiber boat. It started its transatlantic journey to Sanlucar de Barrameda, Spain in the beginning of June 2013. Designed and built by four friends, Scout had significant navigation capabilities as well as robust systems enabling it to travel on its journey completely autonomously.

The goal of this project was to send an autonomous boat across the Atlantic Ocean. If successful, it would have beed the first such craft to do so. The closest publicized attempt was that of the Pinta- a sailboat which traveled 400 miles on its journey before it stopped transmitting its position.

Scoutís hull was a foam core covered with carbon fiber. The electronics were all ready and working and the microcontrollers programmed and ready for the voyage. The power system was completed with the addition of solar panels and batteries. Care was taken in designing and programming these systems as they would have to endure the roughest of conditions for weeks on end without human intervention.

The electronic systems on Scout are straightforward (simple) but advanced. The onboard batteries were capable of running all of Scoutís systems at full power for at least twenty five hours. Satellite tracking was provided by a SPOT tracker and powered by enough lithium batteries to transmit for a number of months. It was track-able on the team's website.

If the boat temporarily loses the GPS fix, it will trigger software that uses an onboard digital compass and data previously collected from the GPS to approximate its position. The keel has even been designed to shed seaweed and other debris that would slow the boat. The forethought that has gone into these systems was significant.

As is typical with such projects costs accumulated, despite volunteer input, with the team needing to raise about two thousand and five hundred $dollars, to cover the costs of what was a groundbreaking project, so as to put more focus on the project itself, rather than funding difficulties.

They were more than just a team of friends working towards a common goal - they were able to make use of some fantastic resources available to them, including world famous marine engineers and designers, offshore sailors and navigators, the Naval Undersea Warfare Center, and the resources of their respective colleges.

Scout was a very exciting and ambitious project where four mates made significant progress on a very tight budget, producing a vessel that was (in theory) fully capable of what they set out to do.
THE TEAM
Dylan Rodriguez has been an avid Scouter since 2010 and is stoked for the 2017 Scouting season. He's also been excited about discus launch gliders, electric skateboards, IOT doodads.

dylan@gotransat.com

Dan Flanigan worked with the team on the composite work, design, and planning. His website is: http://daniel-t-flanigan.squarespace.com/

dan@gotransat.com

Max Kramers brought a lot of composites knowledge to the team. He is currently building a foiling kiteboard.

max@gotransat.com

Brendan Prior is running Waterman Sailing. He has grown up sailing, racing, and working on boats. His father, Geoff Prior is a renowned sailboat racer from New Zealand. https://www.facebook.com/watermansailing.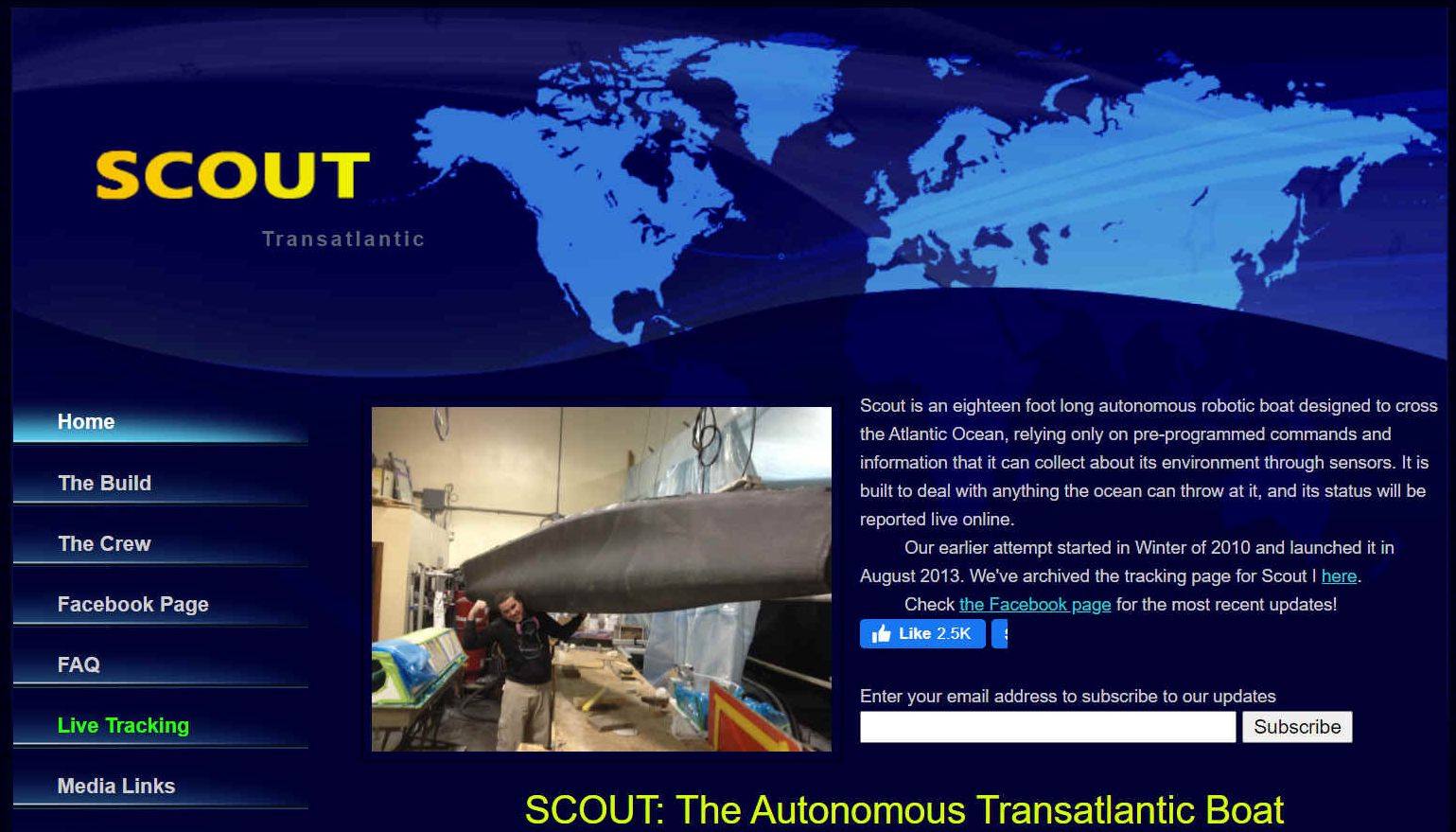 AUTONOMOUS CONCEPT: The first attempt by four students yielded remarkable results when compared to the budget in 2013. In 2020, the IBM Mayflower was launched, incomplete, but looking good for final fitting out and an attempt to cross the Atlantic in 2021. We'll be following progress and reporting on the attempt when that voyage begins.
LINKS & CONTACTS
http://www.solar-voyager.com/about.html
http://www.gotransat.com/
https://www.bluebird-electric.net/artificial_intelligence_autonomous_robotics/kickstarter_scout_solar_powered_autonomous_robot_boat_trans_atlantic_microtransat.htm
The current energy autonomous (solar powered) transatlantic record holder is the TŻranor PlanetSolar, seen below. This large catamaran was manned, so not fully autonomous, but today such capability is available (virtually) off the shelf - and quite affordably. Several companies will install the equipment needed to steer the boat from waypoint to waypoint with full control via satellite, with collision avoidance equipment for artificially intelligent unmanned operation.