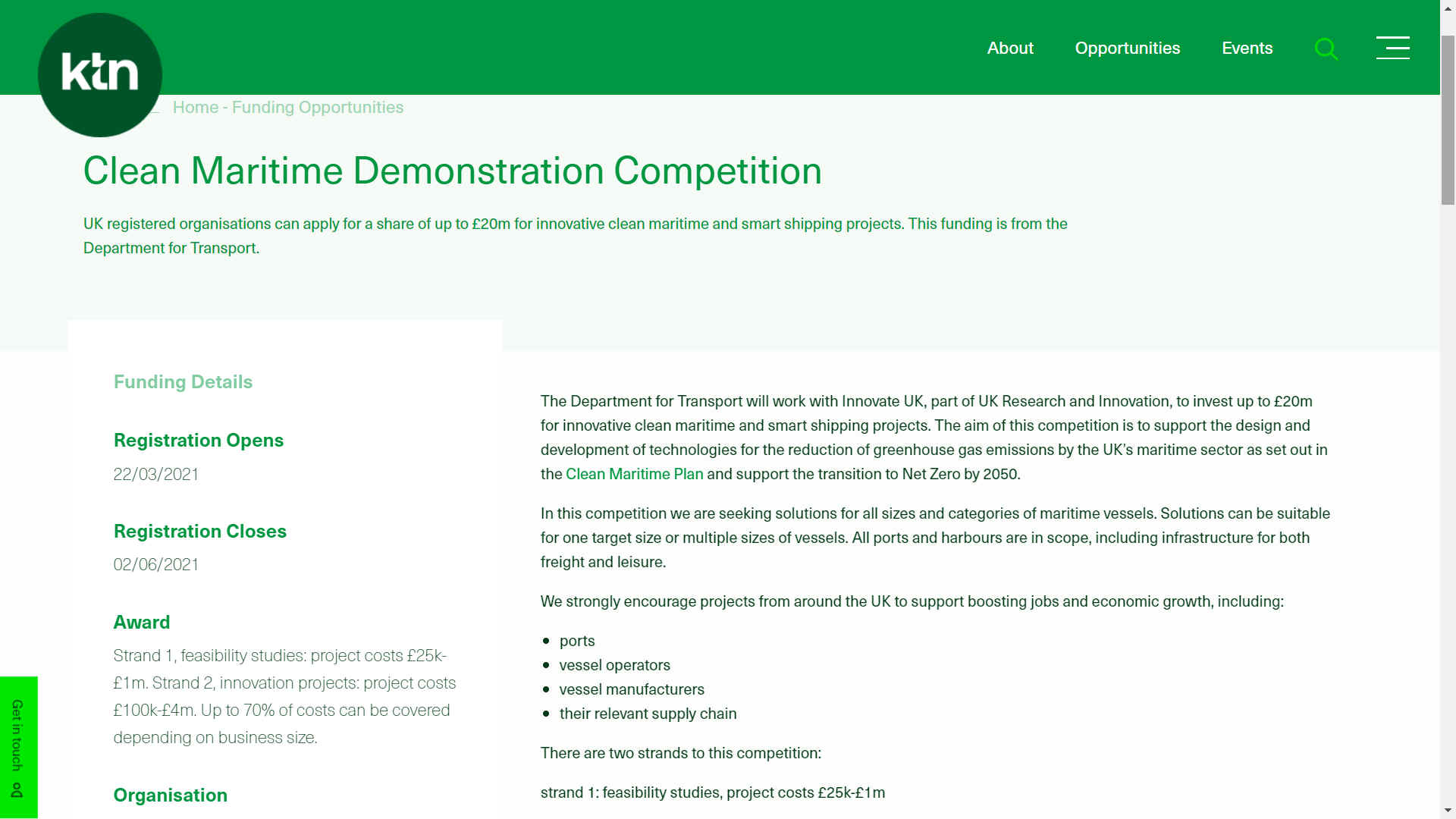 Registration Opens: 22/03/2021 - Registration Closes: 02/06/2021

Your project must:

- have total eligible costs between £25,000 and £1,000,000,
- end by 31 March 2022
- last up to 7 months
- projects must start by 1 September 2021.

Innovate UK will not approve project extensions beyond 31 March 2022.

If your project's total eligible costs outside of our eligibility criteria, you must provide justification by email to support@innovateuk.ukri.org at least 10 working days before the competition closes. We will decide whether to approve your request.

Lead organisation

To lead a project or work alone your organisation must:

- be a UK registered business of any size, a research organisation or a research and technology organisation (RTO)
- carry out its project work in the UK
- intend to exploit the results from or in the UK

If the lead organisation is an RTO or a research organisation it must collaborate with at least 1 business.

Academic institutions cannot work alone.


Project team

To collaborate with the lead, your organisation must:

- be a UK registered business, research organisation, academic institution, charity, not-for-profit, public sector organisation or research and technology organisation (RTO)

- carry out its project work in the UK

- intend to exploit the results from or in the UK

The lead and at least one other organisation in a collaboration must claim funding by entering their costs during the application.


Each partner organisation must be invited into the Innovation Funding Service by the lead to collaborate on a project. Once accepted, partners will be asked to login or to create an account and enter their own project costs into the Innovation Funding Service.

Your project can include partners that do not receive any of this competition's funding, for example non-UK businesses. Their costs will count towards the total eligible project costs.

Subcontractors

Subcontractors are allowed in this competition.

Subcontractors can be from anywhere in the UK and you must select them through your usual procurement process.

You can use subcontractors from overseas but must make the case in question 4 for why you could not use suppliers from the UK.

You must also provide a detailed rationale, evidence of the potential UK contractors you approached and the reasons why they were unable to work with you.

We expect subcontractor costs to be justified and appropriate to the total eligible project costs. A cheaper cost is not deemed as a sufficient reason to use an overseas subcontractor.

Number of applications

There is no limit on the number of applications an organisation can participate in. If applicants are involved in more than one submission, they must clearly state in question 4 how all projects can be resourced and delivered if successful.

Previous applications

You can use a previously submitted application to apply for this competition.

We will not award you funding if you have:

- failed to exploit a previously funded project
- an overdue independent accountant's report
- failed to comply with grant terms and conditions

Subsidy control (and State aid where applicable)

This competition provides funding in line with the UK's obligations and commitments to Subsidy Control. Further information about the UK Subsidy Control requirements can be found within the EU-UK Trade and Cooperation agreement and the subsequent guidance from the department of Business, Energy and Industrial Strategy (BEIS).

Innovate UK is unable to award organisations that are considered to be in financial difficulty. We will conduct financial viability and eligibility tests to confirm this is not the case following the application stage.

European Commission State aid

You must apply under European Commission State aid rules if you are an applicant who is conducting activities that will affect trade of goods and electricity between Northern Ireland and the EU as envisaged by Article 10 of the Protocol on Ireland/Northern Ireland in the EU Withdrawal Agreement.

In certain limited circumstances, the European Commission State aid rules may also apply if you are an organisation located in England, Wales, or Scotland and conduct activities that affect the trade of goods and electricity between Northern Ireland and the EU. For further information, please see section 7 of the BEIS technical guidance.

For further information see our general guidance on state aid and BEIS guidance on the Northern Ireland Protocol.

For applicants subject to the European Commission State aid rules, applicants will be required to prove that they were not an "Undertaking in Difficulty" on the date of 31 December 2019 but became a UID between 1 January 2020 and 30 June 2021. We will ask for evidence of this.


Further Information

If you are unsure about your obligations under the UK Subsidy Control regime or the State aid rules, please take independent legal advice.

You must make sure at all times that the funding awarded to you is compliant with all current Subsidy Control legislation applicable in the United Kingdom.

This aims to regulate any advantage granted by a public sector body which threatens to or actually distorts competition in the United Kingdom or any other country or countries.

If there are any changes to the above requirements that mean we need to change the terms of this competition, we will tell you as soon as possible.


Funding

We have allocated up to £10m to fund feasibility projects in this strand.

Innovate UK and Department for Transport reserves the right to move funding between strands.

If your organisation's work on the project is mostly commercial or economic, your funding request must not exceed the limits below. These limits apply even if your organisation normally acts non-economically.

For feasibility studies, you could get funding for your eligible project costs of:

up to 70% if you are a micro or small organisation
up to 60% if you are a medium-sized organisation
up to 50% if you are a large organisation

The research organisations undertaking non-economic activity as part of the project can share up to 50% of the total eligible project costs. If your consortium contains more than one research organisation undertaking non-economic activity, this maximum is shared between them.


APPLY: STRAND 1 (feasibility studies, £25k-£1m)
SUMMARY - ELIGIBILITY - SCOPE - HOW TO APPLY - SUPPORT - COSTS - EDGE
APPLY: STRAND 2 (innovation projects, £100k-£4m)

SUMMARY - ELIGIBILITY - SCOPE - HOW TO APPLY - SUPPORTING INFORMATION

SDGs 13 CLIMATE & 14 OCEANS : The Elizabeth Swann is shown above is a zero emissions vessel, designed to use only solar and wind power for propulsion, to help nations meet their sustainability development goals (SDGs), as per the Accord de Paris in 2015.
CLEAN MARITIME PLAN INTRODUCTION: 1 - 13
SECTION 1 - TACKLING EMISSIONS: 14 - 50
SECTION 2 - OUR APPROACH: 51 - 58
SECTION 3 - ECONOMICS: 59 - 95
SECTION 4 - INFRASTRUCTURE: 96 - 120
SECTION 5 INNOVATION: 121 - 129
SECTION 6 - REGULATION: 130 - 138
SECTION 7 - NEXT STEPS: 139 - 140
MAP - THE 2050 PLAN RECOMMENDATIONS
The Department for Transport will work with Innovate UK, part of UK Research and Innovation, to invest up to £20m for innovative clean maritime and smart shipping projects. The Secretary of State in 2018 was Chris Grayling, Minister for Marine, Nus Ghani, and Sec. of State from 2019, Grant Shapps.
Horizon Europe is the EU's €100 billion euro research and innovation programme, the European equivalent of UKRI, 35% of which is allocated to achieving climate objectives under SDG13, but where funding applications are extremely complicated - and SMEs inevitably fall at the administration and finance hurdle.
LINKS & REFERENCE
https://en.wikipedia.org/wiki/Department_for_Transport
https://ktn-uk.org/opportunities/clean-maritime-demonstration-competition/
Please use our A-Z INDEX to navigate this site