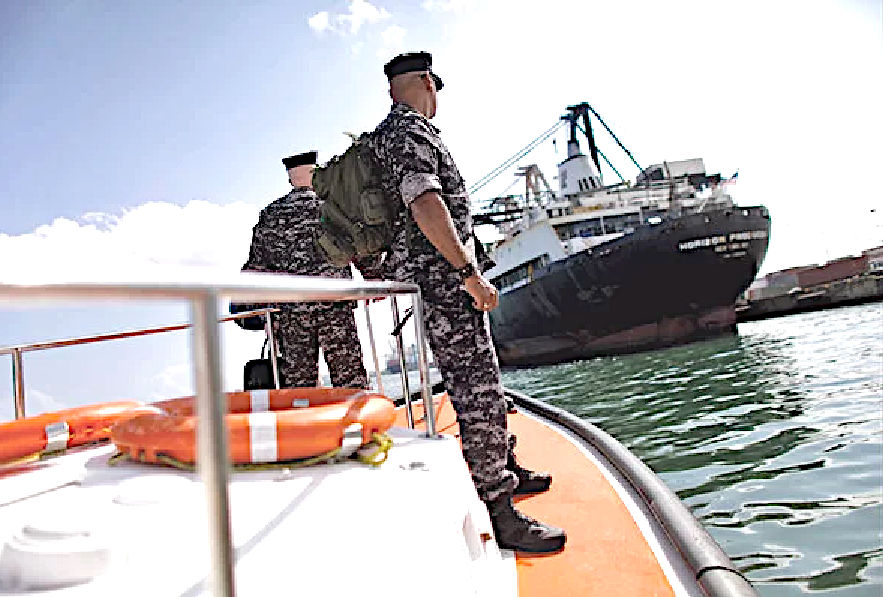 Where the Merlin AI system is a wizard at detecting piracy patterns of approach, the potential pirates will be given ample warning to desist on their present course. At this stage the unwelcome boarders will be given audible warnings.
Should the pirates press ahead with an attack, despite damage (or even the sinking of) their boat, and seek to board the Elizabeth Swann, by way of a last ditch attempt at capturing the ship, additional warnings will be given as to being shocked. The pirates will not know how that is possible, and so, having got this far and lost their boat, may well climb aboard. At which point they will receive a mild shock, with additional warnings as to immobilization, and temporary blindness.
If a foolhardy pirate continues his course, boat sunk, and bedraggled he will be immobilized with considerable accompanying pain. At this point he may also be blinded, if not before, when attempting to board. In for a penny, in for a pound. He/they might as well get the full works. Just before being arrested and tried.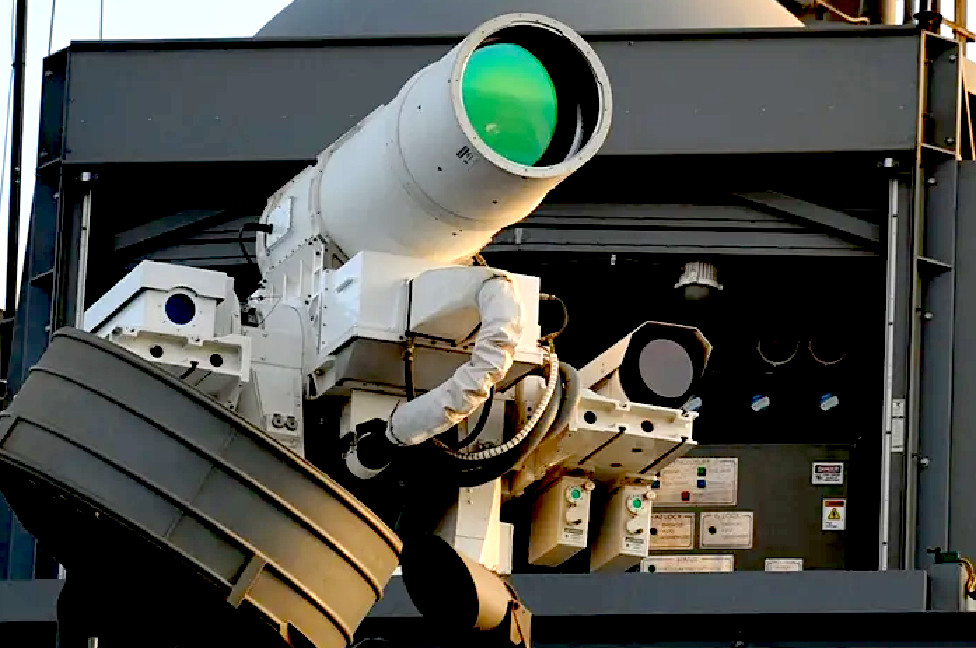 LARGE MILITARY USP LASER - The Tactical Ultrashort Pulsed Laser (USPL) platform will be different from the current laser systems, as it will emit short pulses that rely on low energy. In contrast, current lasers typically emit continuous high energy beams.

The new system is being designed to reach a terawatt for a short 200 femtoseconds — or one quadrillionth of a second. In that time, the UPSL would be able to vaporize a drone. On top of that, the hope is that it'll also be able to disrupt electronic systems in its vicinity, turning it also into a functional Electro-Magnetic-Pulse (EMP).



PREVENTING PIRATE ATTACKS
As part of a comprehensive system to ward off pirate attacks, the Elizabeth Swann is to be armed with three weapons, controlled by an AI controlled, detection tracking, ranging and firing system:
▲ Merlin - Wizard AI alarm, detection, recording and tracking - management system
▲ Excalibur - Ultra Short Pulsed Laser (USPL) 500-1000 kilowatts
▲ Pendragon - Integrated onboard Taser shock immobilization system
▲ Lancelot - Green laser temporary blindness, optical deterrent
▲ Galahad - Vessel immobilizer and distress beacon


WHAT DO WE HAVE IN STORE FOR PIRATES?
Merlin is wizard AI alarm, the eyes of system, able to detect incoming threats, analyze patterns of approach, target, provide audible communications as warnings, and finally fire 'Lancelot' or 'Excalibur.' Depending on the situation.
Should pirates still manage to scramble onboard, then 'Pendragon' will electroshock the unwelcome guests, with increasing intensity, to overcome physical force, finally rendering the boarders unconscious. When they will be zip tied. Ready to be officially arrested and detained. They could of course be thrown overboard, back into the sea. But care should be taken, not to extinguish life from hypothermia or drowning, from prolonged immersion and exhaustion. The crew of the Elizabeth Swann are after all life protectors, and human rights observers. Every life is precious, and there is the capacity for good in everyone.
Meanwhile, SOS messages will be sent, requesting assistance from coastguards and naval authorities.