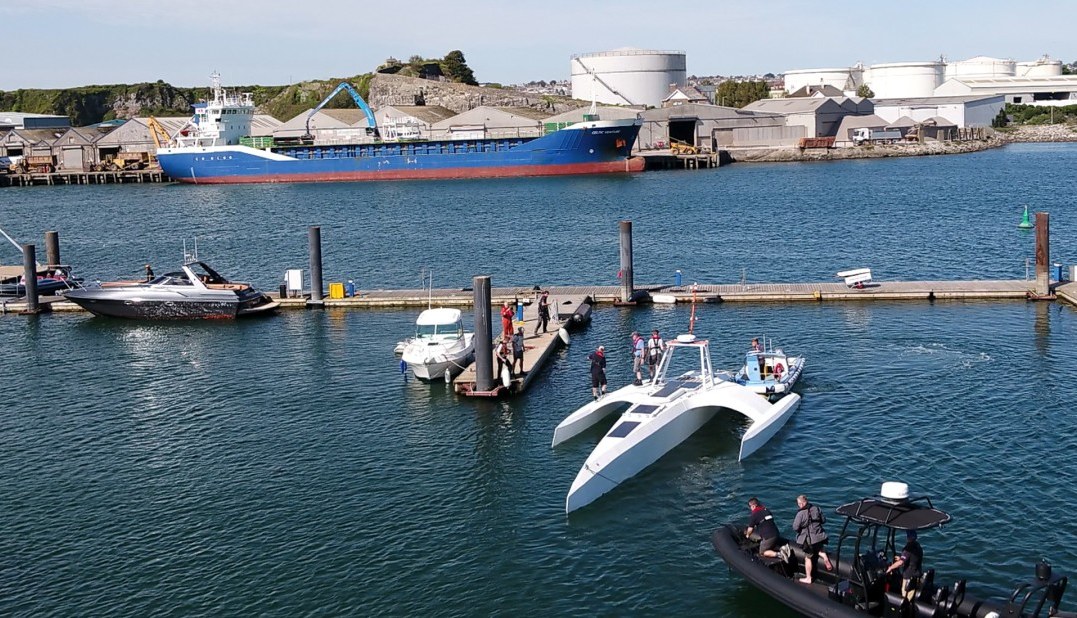 MAYFLOWER TRIMARAN - 1. The solar-powered research boat will aim to traverse the Atlantic Ocean in 2021 with no humans on board. 2. Sea trials are due to commence off the south coast of England in late 2020. 3. The Mayflower was officially unveiled on September 16th 2020, the 400th anniversary of the original Mayflower departure.
According to their information, the Mayflower is powered by AI and the energy from the sun and a small wing-sail. The autonomous boat, is a trimaran similar to the Cable and Wireless Adventurer in design - about one third the length - designed for long durations at sea with the object of collecting data about the ocean.
Its three-hulled, trimaran form ensures high levels of hydro- and aero-dynamics. And without the need for humans to live on board, it is lightweight and fuel efficient.
Waterproof photovoltaic panels fitted to its upper surface enable it to draw on energy from the sun when available, with a modern, high-efficiency generator acting as backup in case solar power is low in supply.
We consider the undertaking to be a very important stepping stone in the quest for unmanned navigation. Especially so, where Covid 19 type pandemics, demand fewer people in supply chains if we are to ensure imports and exports for smooth international goods deliveries. Imagine this possibility linked to unmanned ports and dockyards. Goods might be shipped around the world without the risk of virus transmission. Bingo!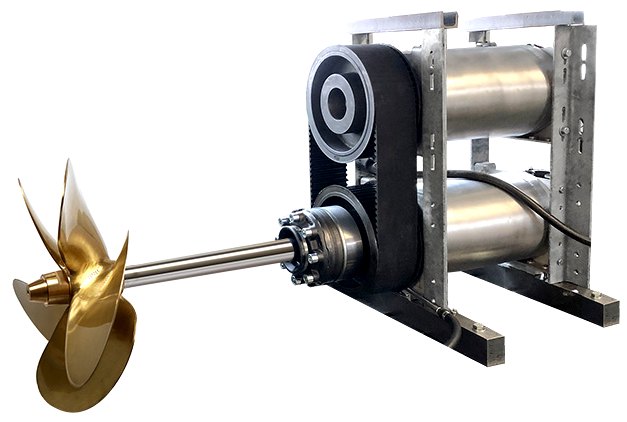 TWIN MOTORS - The Fisher-Panda design offers skippers a higher degree of redundancy and flexibility. One electric motor can be switched on or off depending on the power requirements of a vessel.

To further enhance the redundancy within the system, the motors can be powered via separate battery banks as required. This may be of interest for commercial applications.

Each electric drive motor is designed with two separate electric windings, each with its own control and throttle. The motors are connected by a toothed drive belt.

Both motors are water-cooled. They can also be cooled with seawater using a heat exchanger.

The main electrical components and the motor controller are housed within a Fischer Panda "EasyBox" unit which simplifies the installation.

Fischer Panda recommends the installation of a generator for charging the battery banks in the event that shore power is not available or solar/wind power is not sufficient for to power a vessel. The generator can also enhance the system as a range extender.
SPECIFICATIONS
The trimaran is 15 meters (49.2 ft) in length, 6.2 m (20.3 ft) wide and weighs in at 4,535 kg (5 tons), about half the length and less than 3 percent of the weight of the original Mayflower. She is constructed of marine grade aluminium alloy. The project is a collaboration between IBM and ocean research non-profit ProMare (which will coordinate the scientific studies), along with a worldwide consortium of partners – including Thales, Nvidia, the University of Plymouth and Aluship.

Its navigation system is made up of GNSS, IMUs, radar, SATCOM, AIS and a weather station. There are six AI-powered cameras, over 30 onboard sensors, four (or more) Intel-based computers, as well as another four (or more) custom systems, six Jetson AGX Xavier modules, two Jetson Xavier NX modules and IBM Power Systems. The Mayflower can also accommodate 700 kg (1,543 lb) of equipment by way of a reserve, in case they forgot something.

The Mayflower Autonomous Ship's solar-powered hybrid electric propulsion system comprises dual 20-kW permanent magnet motors and banks of lithium-iron-phosphate batteries, and is reported capable of getting the craft up to a claimed top speed of 10 knots (11.5 mph/18.5 km/h). Drawings show a mast 3.6m high with an area 2.7m2, made of composites.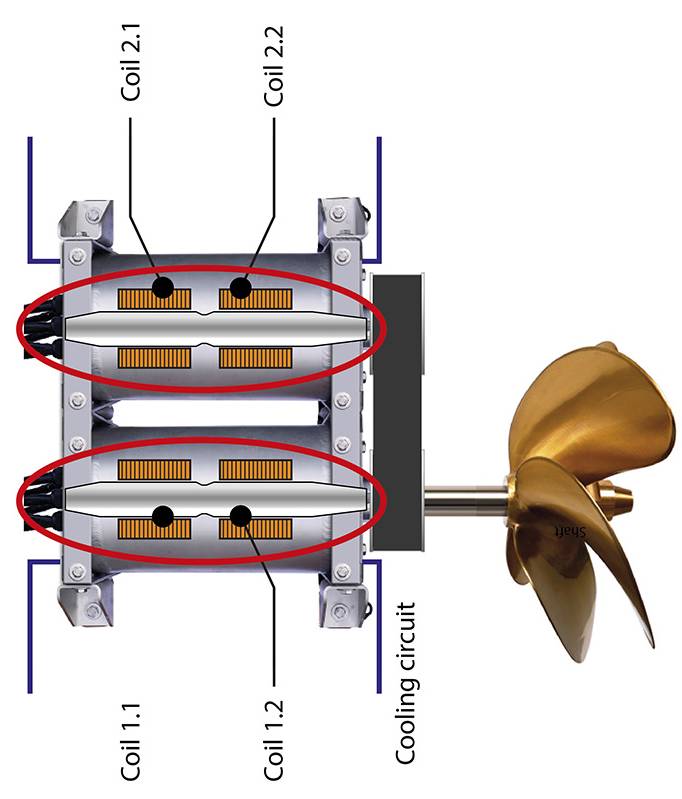 DUAL ELECTRIC MOTOR FOR MULTIPLE DRIVE OPTIONS
Where a car has a gearbox, typically ships have a fixed drive ratio, and fixed pitch propellers. This means that you have to design your engines to run at peak efficiency at the optimum operating speed. Fortunately, there are no hills to climb as with a truck on a road. But there are weather conditions to overcome, winds and currents to deal with. It is these variables that challenge low power craft, as the MAS was initially designed to be. Indeed, the Elizabeth Swann incorporates ways of running efficiently, but the designers did not like the belt idea, because of the additional friction from bearings of the second motor. It may be that they have an electric clutching system - but even so!
The Fischer Panda electric motor propelling it may not be the sexiest part of the boat, but is it important to have a reliable propulsion system if you're planning a 5,800 kilometre unmanned journey across some of planet earth's most challenging waters.

"The big issue for MAS isn't automation, because automation is all around us in our daily lives. Reliability at sea is really the big challenge."

The electrically propelled (diesel-electric) autonomous ship will be powered by a double motor, one on top of he other with connecting belt .

Reliability is at the core of the Fischer Panda machine, having two individual 20kW motors set up with a belt connection – one motor attached to the propeller shaft. The prop can be powered by one motor or two as required. Each motor has two separate electric windings – and each of those has its own control and throttle. For the unpredictable waters of the Atlantic, this gives four possible running options and a higher degree of dependability, according to the designers.

The electric propulsion was to be augmented by a sailfin on top of MAS and together they will provide a maximum speed of 20 knots and an average of about 10 knots over the unrelenting 288 hours of the trip. But the wingsail has not yet been fitted, and it is unclear what the position is. For sure a wingsail (Walker) or rigid sail would improve the performance of the vessel, but may require course corrections to advantage itself of wind multiplication, as in tacking. Since the proposed route is against the prevailing winds.
Mayflower is significantly larger than the Scout from 2013 and Solar Voyager, a kayak from 2015/16. Both projects were designed to navigate The Pond autonomously on a low budget, but did not make it. They were small enough not to be designed for COLREGS compliance. Though, other military craft have surmounted that issue.
HELPING TO COLLECT THE DATA WE NEED FOR THE OCEAN WE WANT

While offering the opportunity to transform oceanographic research, an unmanned research ship presents many challenges. MAS needs to understand its overall mission and destination but must be able to constantly update its route to gather the most valuable data in the short-term.

Research equipment on the Mayflower needs to be light, mobile and able to operate completely autonomously, even in the middle of the ocean, where there is no connectivity to systems on land.

MAS must have a high degree of fault tolerance and be robust enough able to withstand harsh ocean conditions. Sample collection methods also need to be automated, and there must be a balance between what analysis is performed by the ship at sea, and what samples are taken back to shore for analysis.

Teams from ProMare and IBM are currently exploring the application of these scientific instruments and research methodologies on the Mayflower:

Taking the human factor out of the Mayflower has allowed us to completely re-imagine the design. Instead of thinking about eating, sleeping and sanitation, the Mayflower's engineers were able to focus purely on the mechanics and function of the ship

LINKS & CONTACTS
https://www.fischerpanda.de/new-dual-motor-for-electric-drive-systems-from-fischer-panda.htm
https://www.cnbc.com/2020/09/10/testing-begins-on-autonomous-mayflower-ship-ahead-of-atlantic-voyage.html
https://mas400.com/
http://www.promare.org/projects/
https://newsroom.ibm.com/then-and-now