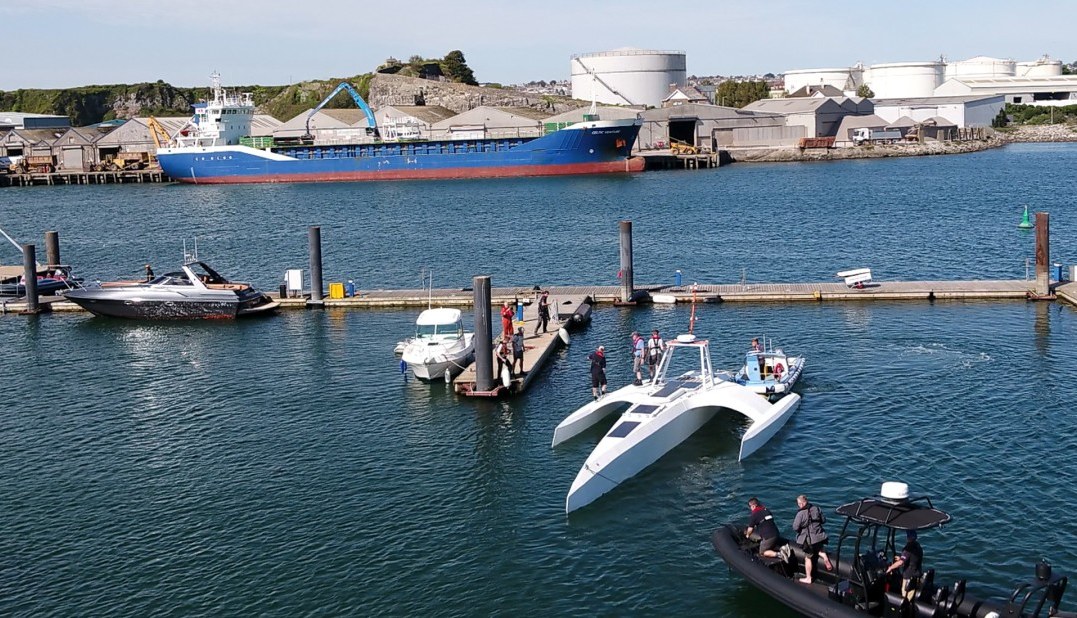 MAYFLOWER TRIMARAN - 1. The solar-powered research boat will aim to traverse the Atlantic Ocean in 2021 with no humans on board. 2. Sea trials are due to commence off the south coast of England in late 2020. 3. The Mayflower was officially unveiled on September 16th 2020, the 400th anniversary of the original Mayflower departure.
The IBM Mayflower is an autonomous trimaran powered by a diesel engine, driving a generator - and thence an electric motor. The boat is piloted by an artificially intelligent computer program developed by IBM, called AI Captain.
The vessel set sail on the 15th of June 2021, heading west along the English Channel into the Atlantic. Three days later (18th June) the mission was aborted with the boat heading erratically and at times seeming to go backwards, as the winds and tides may have caused difficulties, but in any even the speed was well down - according to the Washington post.
The vessel was then recovered, looking to repair and go again. Fingers crossed for the team and hopefully the MAS will soon be ready for another attempt. But don't rush it chaps. Make sure the vessel is working well, before another bash.
When first launched as a Crowdfunder campaign in 2016 the vessel looked to be powered by energy from the sun and a small wing-sail. The autonomous boat is similar in design to the Cable and Wireless Adventurer, only smaller - about one third the length - designed for collecting scientific information about the sea, in between refuelling stops.
JOURNEY TIME

The original 30-meter Mayflower took 66 days to carry the Pilgrims from the U.K. to what is now the U.S. But the new one will take an estimated two to three weeks, 14-21 days depending on weather. There is a diesel generator onboard for when the going gets tough.
You can follow the full journey on the Promare and IBM's interactive website, https://mas400.com/ or our coverage of the event, on this and other marine websites.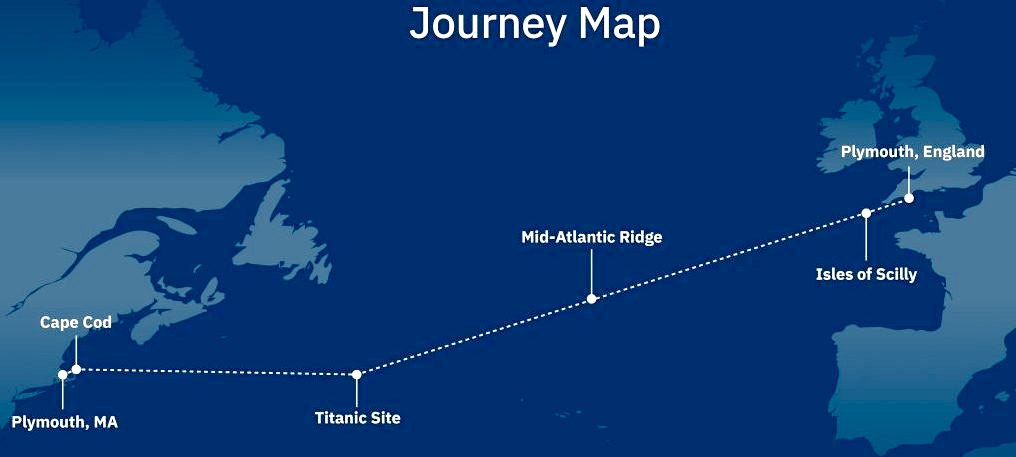 MAYFLOWER PILGRIMS VOYAGE - The direction of travel is the reverse of the Scout and Voyager autonomous Atlantic attempts. But powered by a diesel engine, energy from nature is used to power the onboard AI and satellite communications.
TRANSATLANTIC EVENT CALENDAR 2021

DAY/MONTH

POSITION

AVE SPEED

DIST COVERED

-

-

-

-

Launch 15 June 2021

Plymouth, Devon, UK

Setting off

-

Day 1 16 June 2021

English Channel

-

-

Day 2 17 June 2021

-

Wandering minstrel

-

Day 3 18 June 2021

AI News - Sets sail

Turning back

-

Day 4 19 June 2021

Auto Evolution

Ocean Crew - In Atlantic

Glitch

-

Day 5 20 June 2021

-

-

-

Day 6 21 June 2021

-

-

-

Day 7 22 June 2021

Atlantic

Stalled

-

Day 8 23 June 2021

Atlantic (English Channel)

No data recorded

-

Day 9 24 June 2021

-

-

-

Day 10 25 June 2021

-

-

-

Day 11 26 June 2021

-

-

-

Day 12 27 June 2021

-

-

-

Day 13 28 June 2021

-

-

-

Day 14 29 June 2021

-

-

-

Day 15 30 June 2021

-

-

-

Day 16 1 July 2021

-

-

-

Day 17 2 July 2021

-

-

-

Day 18 3 July 2021

-

-

-

Day 19 4 July 2021

-

-

-

Day 20 5 July 2021

-

-

-

Day 21 6 July 2021

-

-

-

Arrival July 2021

Plymouth, Ma, USA

-

-
ROUGH SPEED GUIDE
@ 20 knots (480 day/ave) the 3160 NM journey will take 6.58 days (claimed top speed)
@ 15 knots (360 day/ave) the autonomous attempt will take 8.78 days
@ 14 knots (336 day/ave) the voyage will take 9.4 days
@ 13 knots (312 day/ave) the adventure will last 10.13 days
@ 12 knots (288 day/ave) the voyage will take 10.97 days
@ 11 knots (264 day/ave) the trip will take 11.97 days
@ 10 knots the journey will take 13.17 days.
@ 9 knots (216 day/ave) the passage will take 14.63 days
@ 8 knots (192 day/ave) the journey will take 16.46 days
@ 7.5 knots the voyage will take 17.56 days
@ 7 knots (168 day/ave) the passage will take 18.8 days
@ 6.5 knots (156 day/ave) the advanture will take 20.25 days
@ 6 knots the voyage will last 21.95 days
@ 5.5 knots (132 day/ave) the voyage will last 23.94 days
@ 5.3 knots (127.2 day/ave) the trip will last 24.84 days (current solar powered record)
@ 5 knots (120 day/ave) the passage will last 26 days
Director of the Mayflower project, Brett Phaneuf, is quoted as telling CNBC that the new Mayflower is packed full of technology that the original pilgrims wouldn't have been able to comprehend. But it's important not to get carried away. "It's not a Terminator," he said. "It's not going to take over the world and it's not going to chase all our ships off the ocean. It's a democratizing technology that will help us collect vast amounts of unfamiliar data about the ocean."

"The interesting thing about Mayflower is there's nobody to get tired or bored or lonely or injured," said Phaneuf, pointing out that the vessel can go as fast or as slow as it likes for as long as it wants. "If something is interesting, or new, it can be diverted for next to no money." [Dependent on prevailing incoming solar radiation and wind]

There's every chance that the ship will encounter problems on the transatlantic trip but Phaneuf believes it's robust enough to make it. He said it will take something idiotic and mundane to stop it, such as the rudder getting jammed by a log.
Mayflower is significantly larger than the Scout from 2013 and Solar Voyager, a kayak from 2015/16. Both projects were designed to navigate The Pond autonomously on a low budget, but did not make it. They were small enough not to be designed for COLREGS compliance. Though, other military craft have surmounted that issue. With 30 sensors and 6 cameras onboard, and with IBM AI and Nvidia graphic processing power, the Mayflower will know about its surroundings. If it gets hit, we are likely to know about it via Artie and ChatBotBay.
The Mayflower Autonomous Ship (MAS) is destined to spend six months in sea trials and undertake various research missions and voyages before attempting to cross the Atlantic Ocean in Spring 2021. MAS's transatlantic voyage will be based on a similar route and pioneering spirit to the 1620 Mayflower which made the same crossing 400 years ago.
LINKS & CONTACTS
https://www.cnbc.com/2020/09/10/testing-begins-on-autonomous-mayflower-ship-ahead-of-atlantic-voyage.html
https://mas400.com/
http://www.promare.org/projects/
https://newsroom.ibm.com/then-and-now