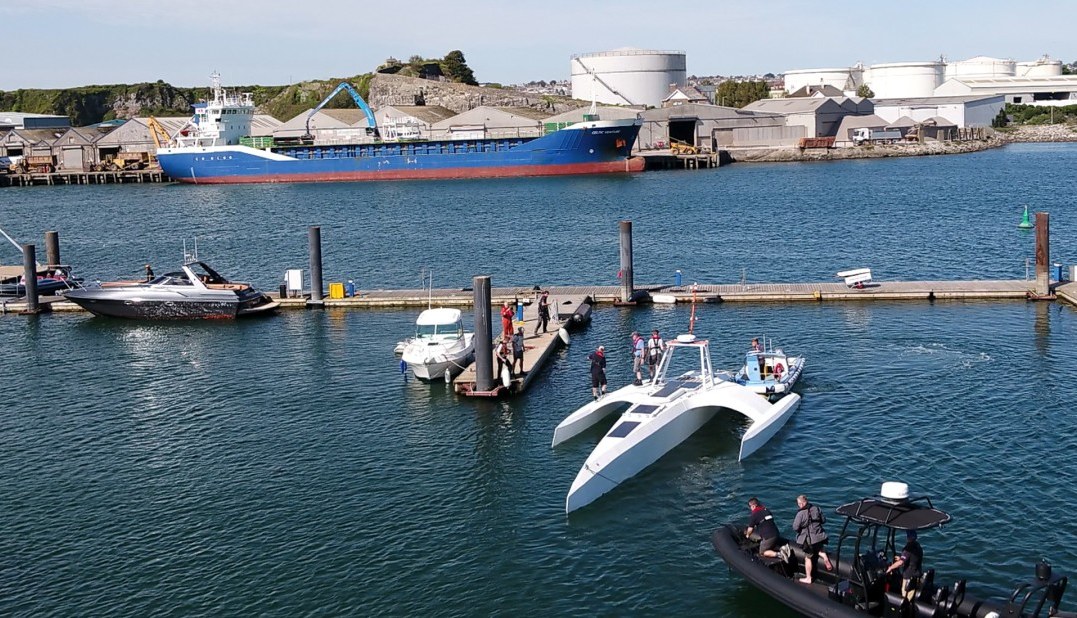 MAYFLOWER TRIMARAN - 1. The solar-powered research boat will aim to traverse the Atlantic Ocean in 2021 with no humans on board. 2. Sea trials are due to commence off the south coast of England in late 2020. 3. The Mayflower was officially unveiled on September 16th 2020, the 400th anniversary of the original Mayflower departure.
According to their information, the Mayflower is powered by AI and the energy from the sun and a small wing-sail. The autonomous boat, is a trimaran similar to the Cable and Wireless Adventurer in design - about one third the length - designed for long durations at sea with the object of collecting data about the ocean.
Mayflower is significantly larger than the Scout from 2013 and Solar Voyager, a kayak from 2015/16. Both projects were designed to navigate The Pond autonomously on a low budget, but did not make it. They were small enough not to be designed for COLREGS compliance. Though, other military craft have surmounted that issue.
The team of the Mayflower project include a large number of people, demanding a larger budget, to undertake the man hours needed to manage the crew of such a marine research project. We consider the undertaking to be a very important stepping stone in the quest for unmanned navigation. Especially so, where Covid 19 type pandemics, demand fewer people in supply chains if we are to ensure imports and exports for smooth international goods deliveries.

SATCOMS
Essential to any autonomous vessel, is the ability to communicate with a land base to establish position and to be able to transfer data, for drone control, and to disseminate information (geodata) that is collected at sea.
LINKS & CONTACTS
https://www.cnbc.com/2020/09/10/testing-begins-on-autonomous-mayflower-ship-ahead-of-atlantic-voyage.html
https://mas400.com/
http://www.promare.org/projects/
https://newsroom.ibm.com/then-and-now