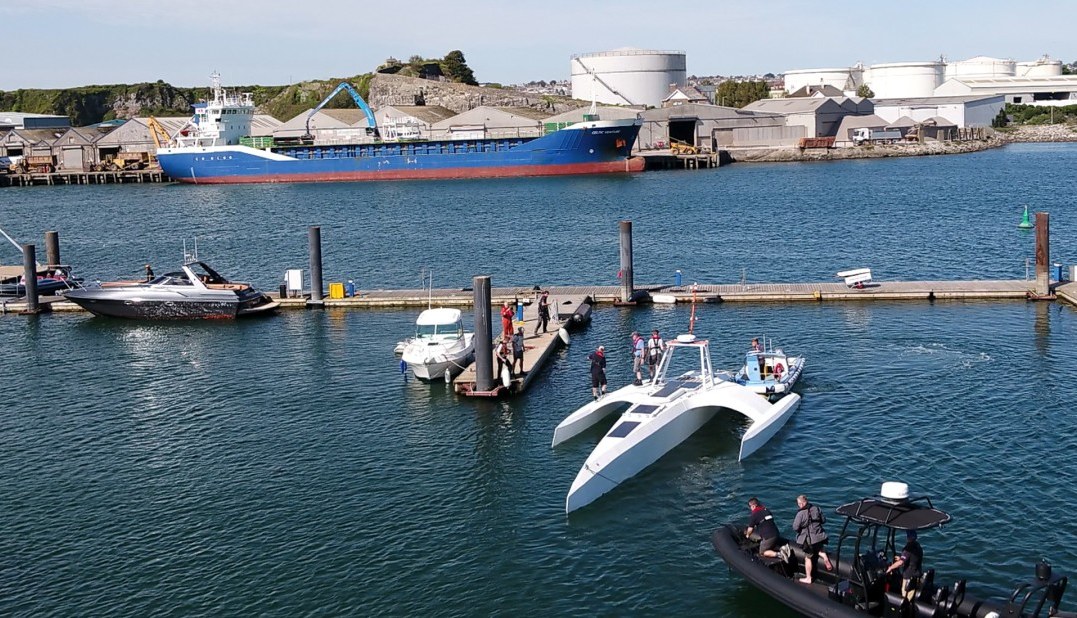 MAYFLOWER TRIMARAN - 1. The solar-powered research boat will aim to traverse the Atlantic Ocean in 2021 with no humans on board. 2. Sea trials are due to commence off the south coast of England in late 2020. 3. The Mayflower was officially unveiled on September 16th 2020, the 400th anniversary of the original Mayflower departure.
According to their information, the Mayflower is powered by AI and the energy from the sun and a small wing-sail. The autonomous boat, is a trimaran similar to the Cable and Wireless Adventurer in design - about one third the length - designed for long durations at sea with the object of collecting data about the ocean.

Research equipment on the Mayflower needs to be light, mobile and able to operate completely autonomously, even in the middle of the ocean, where there is no connectivity to systems on land.
Sample collection methods need to be automated, and there must be a balance between what analysis is performed by the ship at sea, and what samples are taken back to the shore for analysis. The following equipment is specified:
- Oceanographic sensors to measure water salinity, temperature and oxygen levels will be included. It is hopes that the knowledge obtained from these devices might provide a more detailed understanding of the ocean water's characteristics and the impact of global warming over time in different areas of the world's oceans.

- An RS Aqua PORPOISE underwater noise recorder and digital hydrophone (underwater microphone) system that will be used for research into the population and distribution of whales and other marine mammals.

- A robotic, multi-bottle water sampling array that will be used to take water samples in interesting areas. The water samples will later be analysed in the lab for micro-plastic, plankton, algae and other features.

- A fluorometer for fluorescence monitoring and detection of algae and phytoplankton. This is important in marine ecosystems that are vulnerable to changes in water temperature and quality.
Mayflower is significantly larger than the Scout from 2013 and Solar Voyager, a kayak from 2015/16. Both projects were designed to navigate The Pond autonomously on a low budget, but did not make it. They were small enough not to be designed for COLREGS compliance. Though, other military craft have surmounted that issue.
LINKS & CONTACTS
https://www.cnbc.com/2020/09/10/testing-begins-on-autonomous-mayflower-ship-ahead-of-atlantic-voyage.html
https://mas400.com/
http://www.promare.org/projects/
https://newsroom.ibm.com/then-and-now