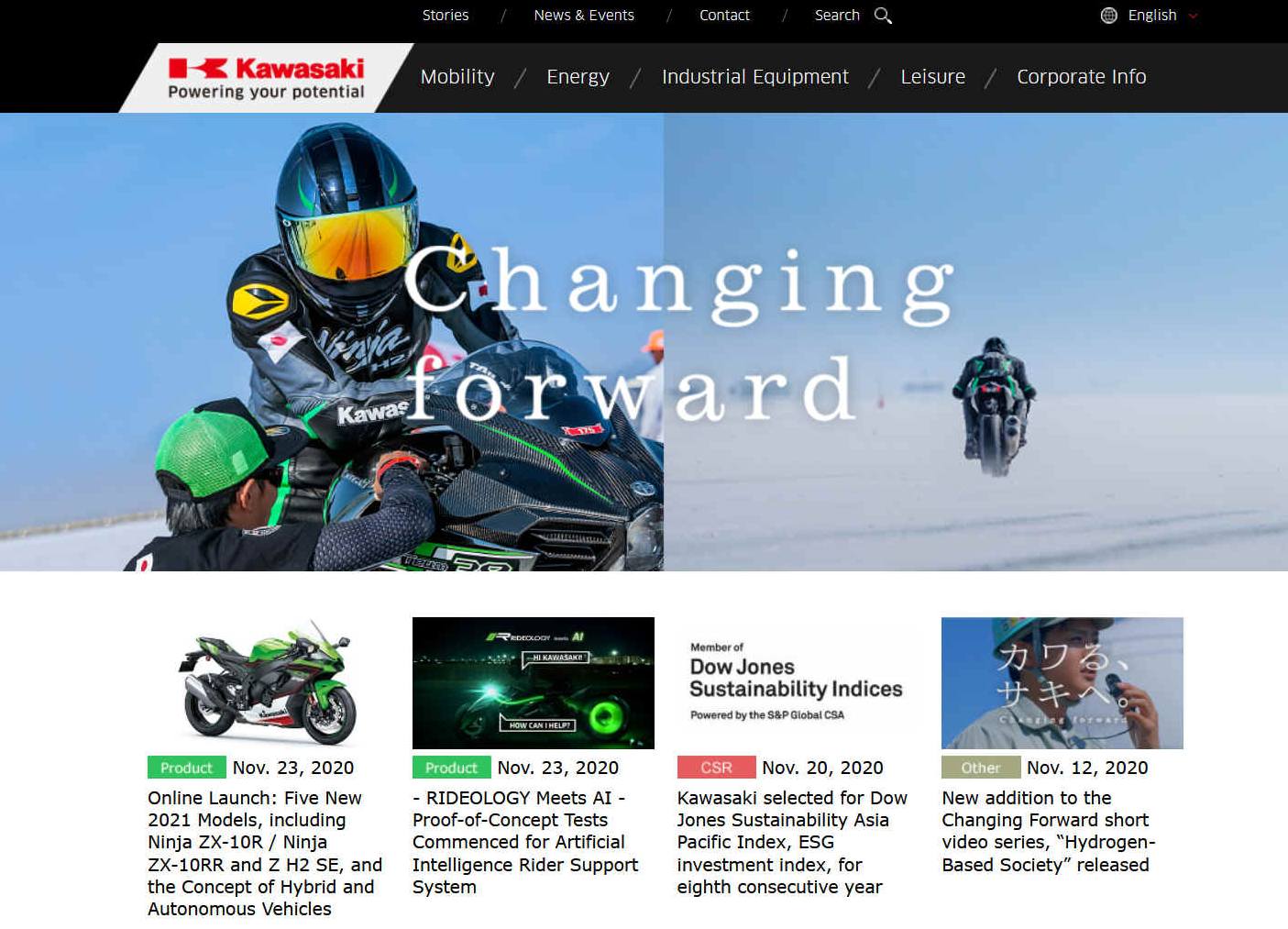 KAWASAKI - is a MAS 400 partner
Kawasaki is famous for fast motorcycles and heavy industries, including shipbuilding. They are listed as a partner to the Mayflower project and Pilgrim Fathers commemorative event. But there is very little published information about what part they played in the project.
What is interesting is the research this company is carrying out on hull design and propeller efficiency, and of course autonomous (self driving) vehicles.
Together with about 100 group companies in Japan and overseas, Kawasaki Heavy Industries oversees the formation of a "technology corporate group." Our technological capabilities, polished over a history that exceeds a century, send diverse products forth into wide-ranging fields that go beyond land, sea, and air, extending from the ocean depths to space. Our aerospace division is active in products ranging from aircraft to satellites. The products that our rolling stock division delivers to the world include Shinkansen and New York subway cars, while our ship and offshore structure division's products range from gas carriers and large tankers to submarines, and our energy solutions division covers the spectrum from development and manufacture of energy equipment to management systems. We are also active in wide-ranging businesses driven by diverse and high-level engineering technologies, including environmental and recycling plants, industrial plants, precision machinery, industrial robots, and infrastructure equipment. Finally, we operate our leisure and power products business that features the motorcycles known as the Kawasaki brand. Through the development of unique and broad businesses unmatched elsewhere, we will continue to create new values that solve the issues facing our customers and society.
MESSAGE FROM THE PRESIDENT & CEO
The world is currently undergoing a major paradigm shift driven by an array of factors. These include an increased risk of environmental deterioration due to rapid industrial development and population expansion in emerging economies, shrinking workforces as a result of "graying" societies in developed nations, progressing globalization propelled by growing air travel and logistics networks, and even more widespread use of the Internet. In addition, we are severely affected by the novel coronavirus pandemic. Such significant changes have compelled us to reassess our lifestyles, the way we do business, and the values with which we have been living.

Since its incorporation in 1896, for more than 120 years, the Kawasaki Group has been developing sophisticated technologies and generating knowledge used for manufacturing products that encompass the land, sea, and air sectors. Accommodating to the changing times, and with an unswerving determination to provide products and services that best serve the diverse needs of people around the world, we create value for our customers through our cutting-edge technologies. This commitment serves our mission to broaden the potential of our customers and society and ultimately to fulfill our Group mission: "Kawasaki, working as one for the good of the planet."

In order to keep abreast of social needs and resolve challenges in response to the expectations and confidence that our customers have placed in us, we consider it imperative to rapidly accommodate changes in the times and to develop more products and services with added value for our customers. We therefore set "Trustworthy Solutions for the Future" as our vision to be achieved by 2030. This vision expresses our commitment to "making available in a timely manner innovative solutions which accommodate an ever-changing society in order to create a hopeful future" and "acting without organizational and divisional boundaries and taking up challenges to expand the horizons of our potential for further growth."

Our approach of always collaborating with our customers to devise solutions and implementing them speedily serves our corporate message : "Changing Forward." Moreover, by expanding our global business and continuing to grow, while ensuring compliance with the law and implementing Group-wide social responsibility activities, Kawasaki aspires to be a company that is even more trusted by people around the world.

For these endeavors, I would like to sincerely request your continued support.

As soon as we know more about Kawasaki's contribution to the AI MAS 400 project, we'll let you know. Meantime, take a look at their technologies aimed at fuel saving by improving the propulsive efficiency, hybrid propulsion system and other impressive achievements.
HIGHER PERFORMANCE HULL FORM: SEA ARROW
Optimum hull form for medium-speed ships enabling energy saving and operation time saving - SEA-Arrow (Sharp Entrance Angle bow as an Arrow)
"SEA-Arrow" (patented) is a newly developed optimum shape of bow for medium-speed ships such as LPG carriers. It can significantly reduce the bow wave resistance and enhances the ship's propulsive performance. Furthermore, it can realize a drastic reduction in the fuel consumption and shortening of shipping schedules.

LPG carriers are required to have box-shape tanks arranged forward of the bow for the purpose of efficient arrangement of LPG tanks, and also required to develop a higher ship speed than oil tankers and bulk carriers. Their lengths are restricted due to the facilities of their loading/unloading ports.

Under these restrictions in design, the conventional stem LPG carriers are designed to be relatively full in the bow part, which generates high waves around the bow. These bow waves produce large hull resistance.

In such circumstances, Kawasaki have carried out R & D of LPG carriers' hull form, aiming at higher propulsive performance by minimizing the bow waves, and developed SEA-Arrow having no protrusion of bulb, but keeping the effect of having a bulbous bow.
The features of SEA-Arrow are as follows:

- The bow wave resistance can be reduced to half, compared with the conventional stem LPG carriers.
- The required main engine horsepower can be decreased by 6% to 10% from the conventional LPG carriers at the same ship speed.
- The ship speed can be increased by 0.3 to 0.5 knot from the conventional LPG carriers at the same main engine horsepower.

SEA-Arrow has already been applied to ten LPG carriers. Analyzing their voyage data, we have confirmed their high propulsive performance in loaded condition.


SEW (STERN END WEDGE)

"Kawasaki SEW" (patented) has a characteristic stern profile having an inflection point near the stern end of the ship. It reduces stern waves and is effective for high speed ships such as container ships and pure car carriers. The conventional high speed ships generate large stern waves from their stern end. The Kawasaki SEW has a downward stern profile to the stern end from the inflection point. The flows through Kawasaki SEW are accelerated and the accelerated flow field is capable of restraining the wave breaking and the wave height at the stern. As a result, Kawasaki SEW reduces stern wave resistance and required propulsive power by 3% to 7%. Kawasaki SEW has already been installed on ten high speed ships.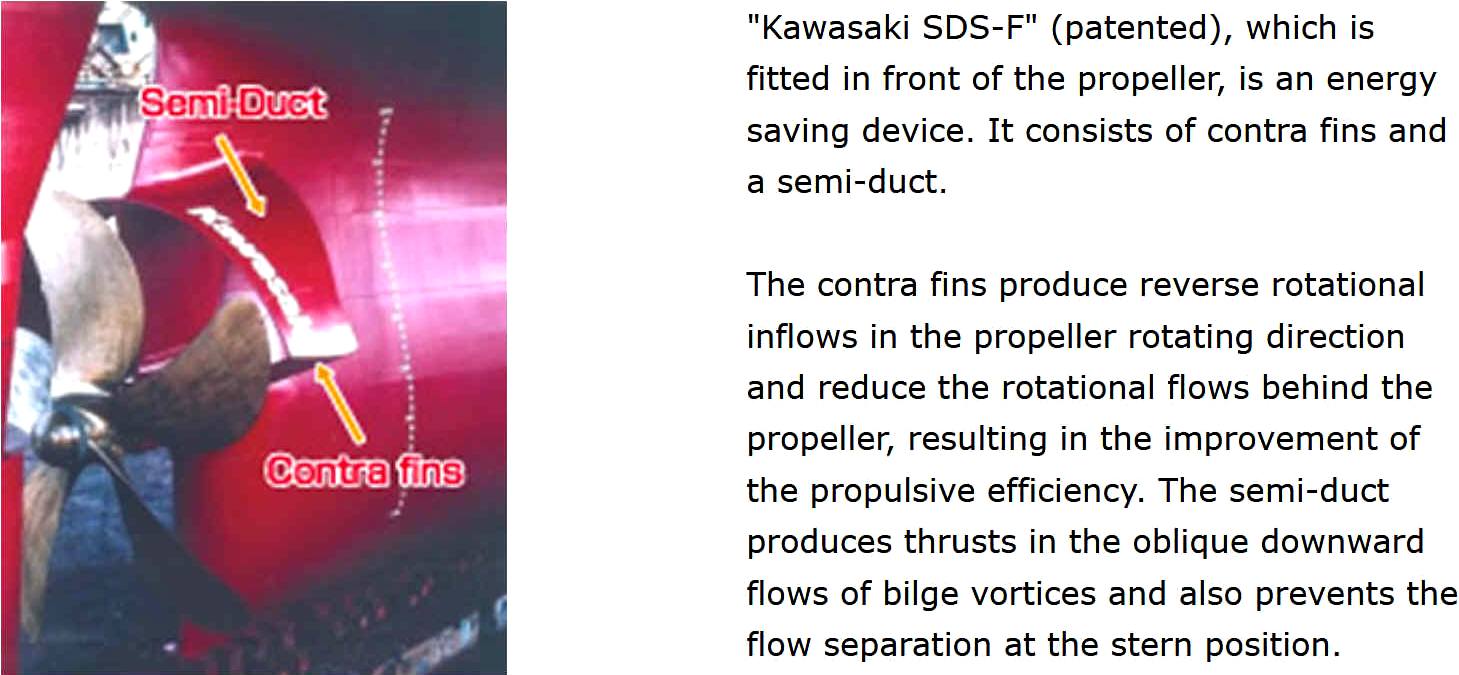 ENERGY SAVING TECHNOLOGY: RBS-F (RUDDER BULB & FINS)

"Kawasaki RBS-F" (patented) is an energy saving device installed on a rudder. It consists of a streamline-shaped rudder bulb and airfoil-shaped fins.

The rudder bulb brings smooth inflows to the propeller, and the fins produce thrusts in the rotational flows generated by the propeller. As a result, Kawasaki RBS-F reduces the required propulsive power by 2% to 7%.

Kawasaki RBS-F has been installed on more than 100 ships including LNG Carriers, LPG carriers and bulk carriers.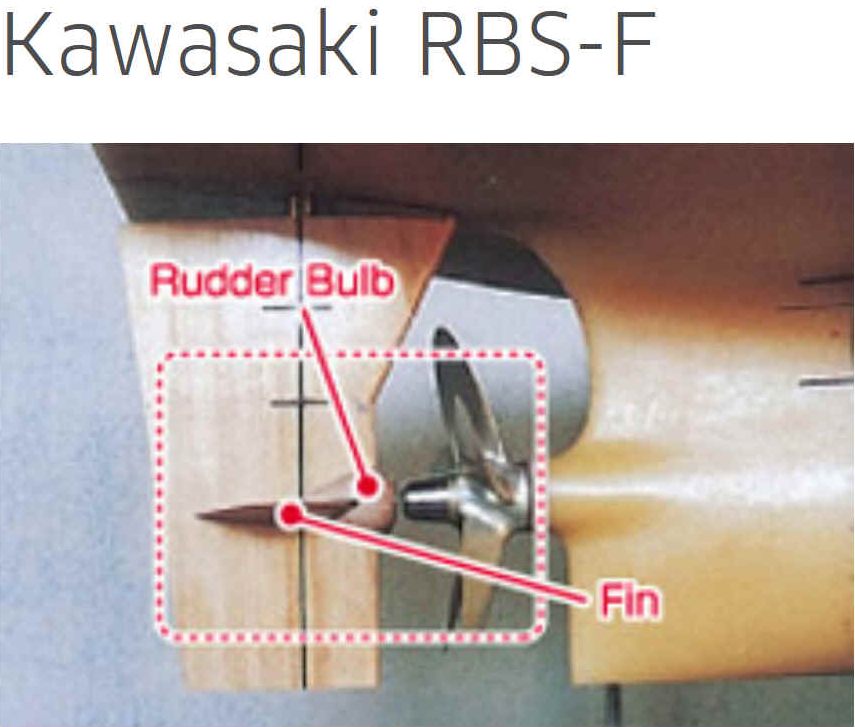 "Kawasaki SDS-F" (patented), which is fitted in front of the propeller, is an energy saving device. It consists of contra fins and a semi-duct.

The contra fins produce reverse rotational inflows in the propeller rotating direction and reduce the rotational flows behind the propeller, resulting in the improvement of the propulsive efficiency. The semi-duct produces thrusts in the oblique downward flows of bilge vortices and also prevents the flow separation at the stern position.

Kawasaki SDS-F achieves 3% to 7% energy saving, and by fitting it along with our another energy saving device, Kawasaki RBS-F, further energy saving can be expected.

Kawasaki SDS-F has already been installed on five oil tankers.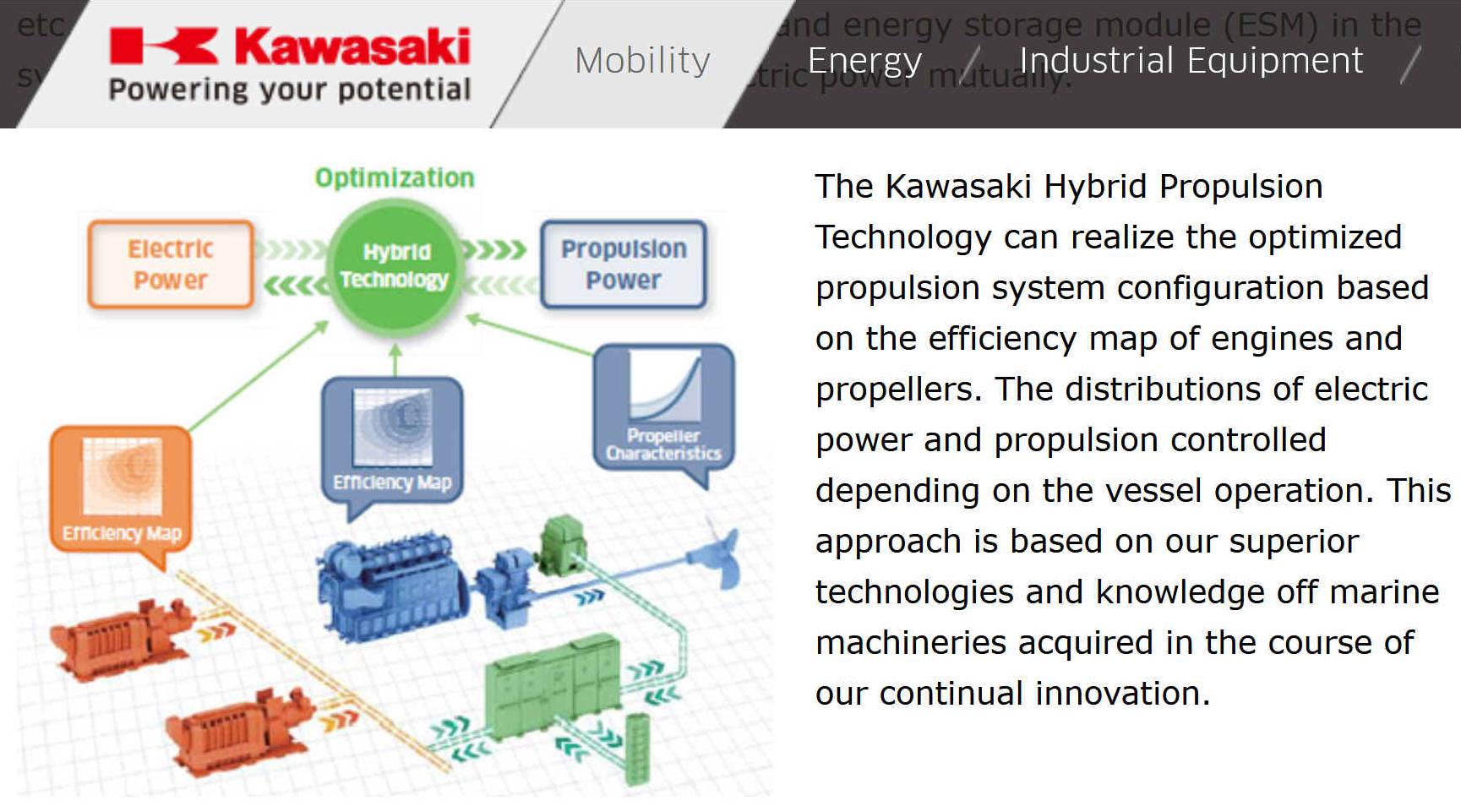 HYBRID PROPULSION SYSTEM

The Kawasaki Hybrid Propulsion Technology can realize the optimized propulsion system configuration based on the efficiency map of engines and propellers. The distributions of electric power and propulsion controlled depending on the vessel operation. This approach is based on our superior technologies and knowledge off marine machineries acquired in the course of our continual innovation.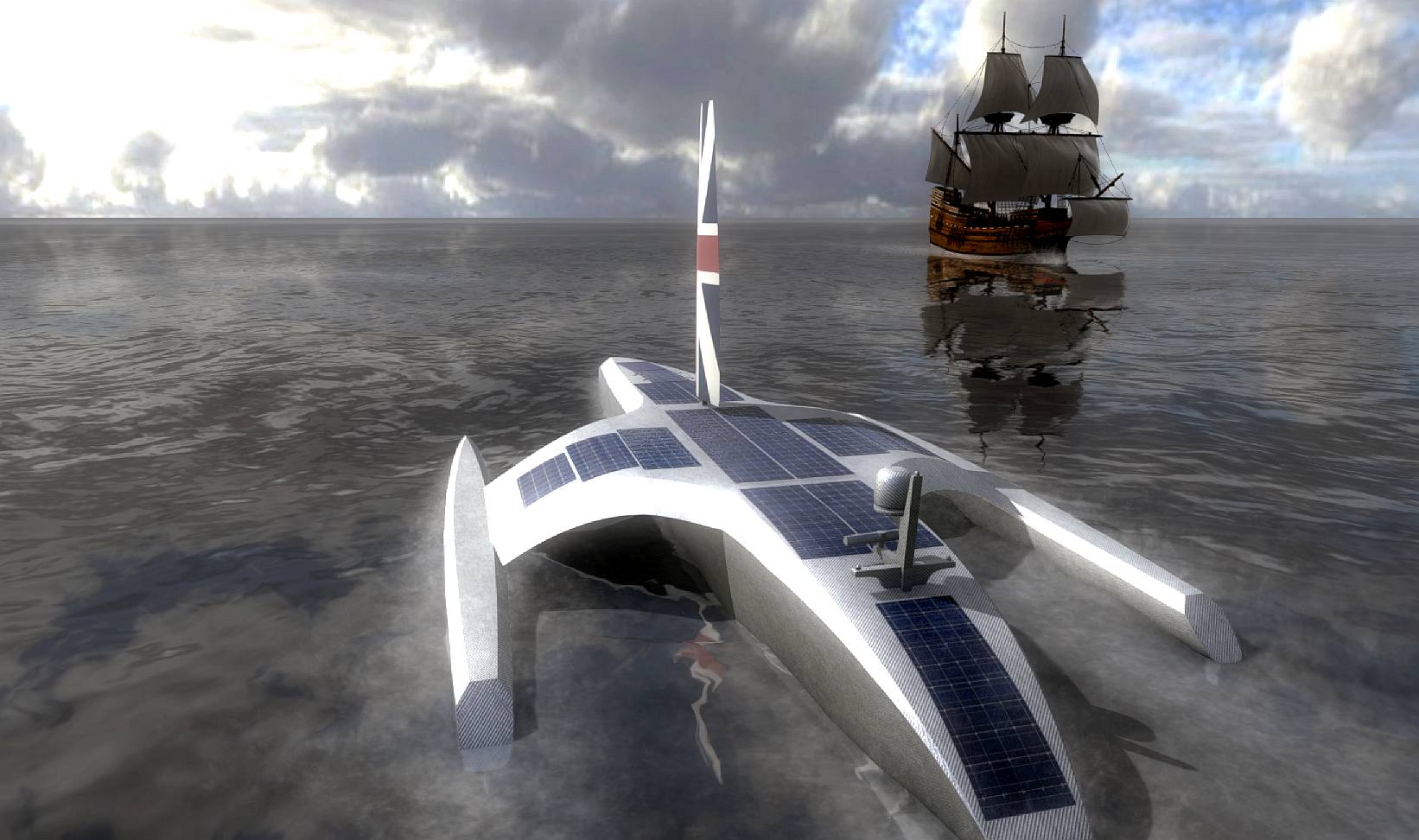 CONTACTS

Tokyo Head Office

Kawasaki Heavy Industries, Ltd
1-14-5, Kaigan, Minato-ku, Tokyo 105-8315
Japan

Tel. +81-3-3435-2111 / Fax. +81-3-3436-3037

Kobe Head Office

Kawasaki Heavy Industries, Ltd
Kobe Crystal Tower, 1-3, Higashikawasaki-cho 1-chome
Chuo-ku, Kobe, Hyogo 650-8680
Japan

Tel. +81-78-371-9530 / Fax. +81-78-371-9568
Regional Offices
Amsterdam, The Netherlands
Kawasaki Heavy Industries
(Europe) B.V. Tel:+31-20-6446869/ Fax:+31-20-6425725
E-mail: diesel@keb.nl

Hong Kong, China
Kawasaki Heavy Industries
(H.K.) Ltd. Tel:+852-2522-3560/ Fax:+852-2845-2905
E-mail: khi_hk@khihk.com.hk

Singapore - Kawasaki Heavy Industries
(Singapore) Pte. Ltd. Tel:+65-6225-5133/ Fax:+65-6224-9029
E-mail: cs3_info@khi.co.jp

Rio de Janeiro, Brazil
Kawasaki Machinery
do Brasil Maquinas e
Equipamentos Ltda.
Tel:+55-21-2226-3938 / Fax:+55-21-2225-3613
E-mail: service@kawasakijuko.com.br
LINKS & REFERENCE
https://global.kawasaki.com/en/mobility/marine/technology/energy_saving.html
http://global.kawasaki.com/en/energy/index.html
https://mas400.com/
https://newsroom.ibm.com/then-and-now