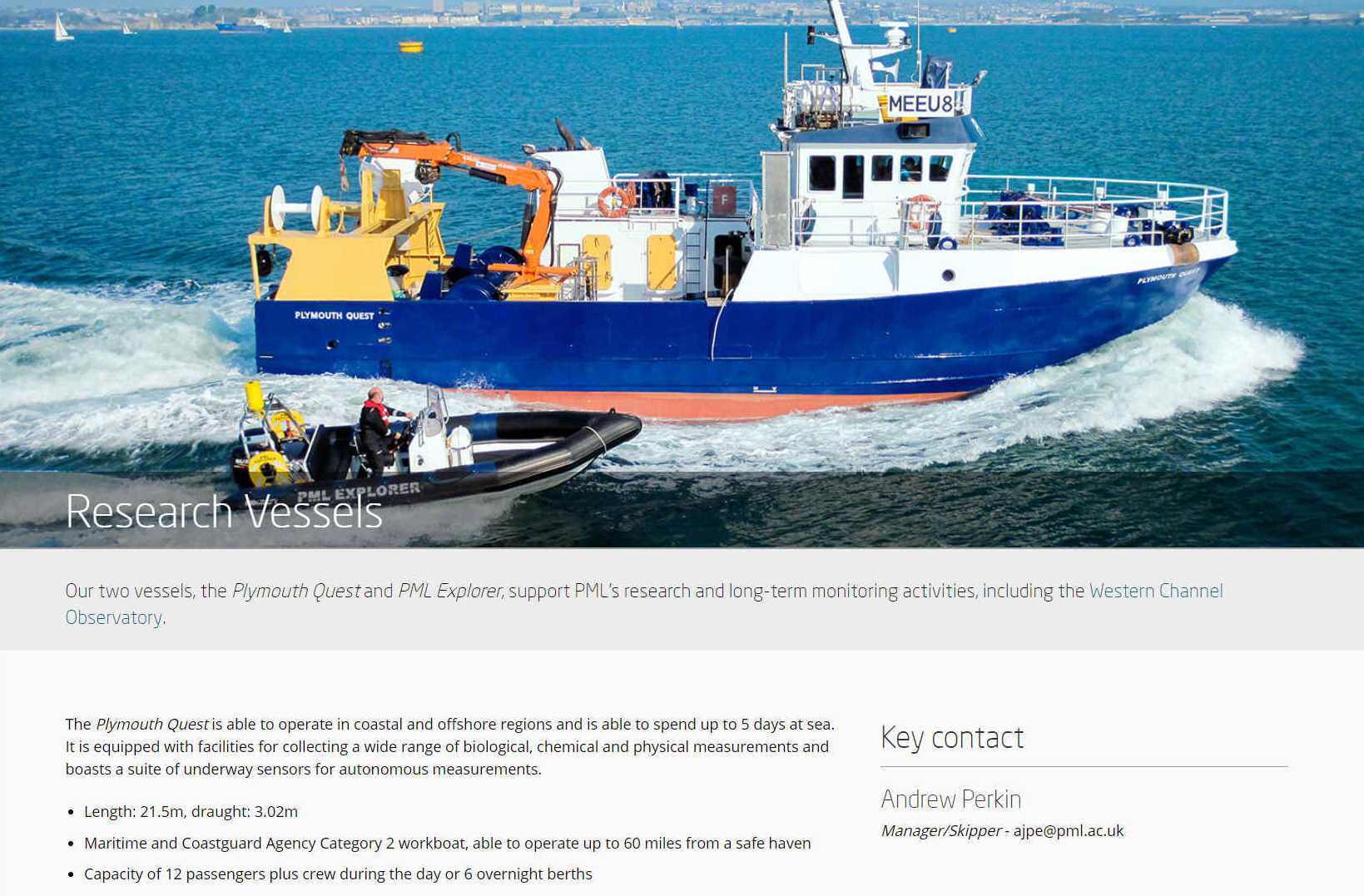 PLYMOUTH MARINE LABORATORIES - Is a Mayflower MAS400 partner


According to their website, in 2002 Plymouth Marine Laboratory (PML) became an independent company limited by guarantee (clg) with charitable status; company number 4178503; charity registration number 1091222, being severed from the NERC. They are governed in accordance with charity law by a Board of Trustees, who are also Directors under company law.

They are located on The Hoe, Plymouth, close to the seafront and spectacular Plymouth Sound, a short walk from the historic Barbican, Royal William Yard and the city centre. James Cameron, the world renowned film maker and explorer, is a patron of PML.
SUSTAINABLE DEVELOPMENT

Through the delivery of our Science Plan we are contributing to several of the United Nations Sustainable Development Goals (SDG), in particular SDG14 which looks to "conserve and sustainable use the oceans, seas and marine resources for sustainable development".

The ocean and seas are essential to every one of us. They regulate weather and climate, produce oxygen for us to breathe, provide food, chemicals, and energy and support our economies by providing employment in many sectors including transport, tourism, fishing, energy and biotechnology.

An increasing global population is placing ever increasing demands upon the resources provided by the ocean.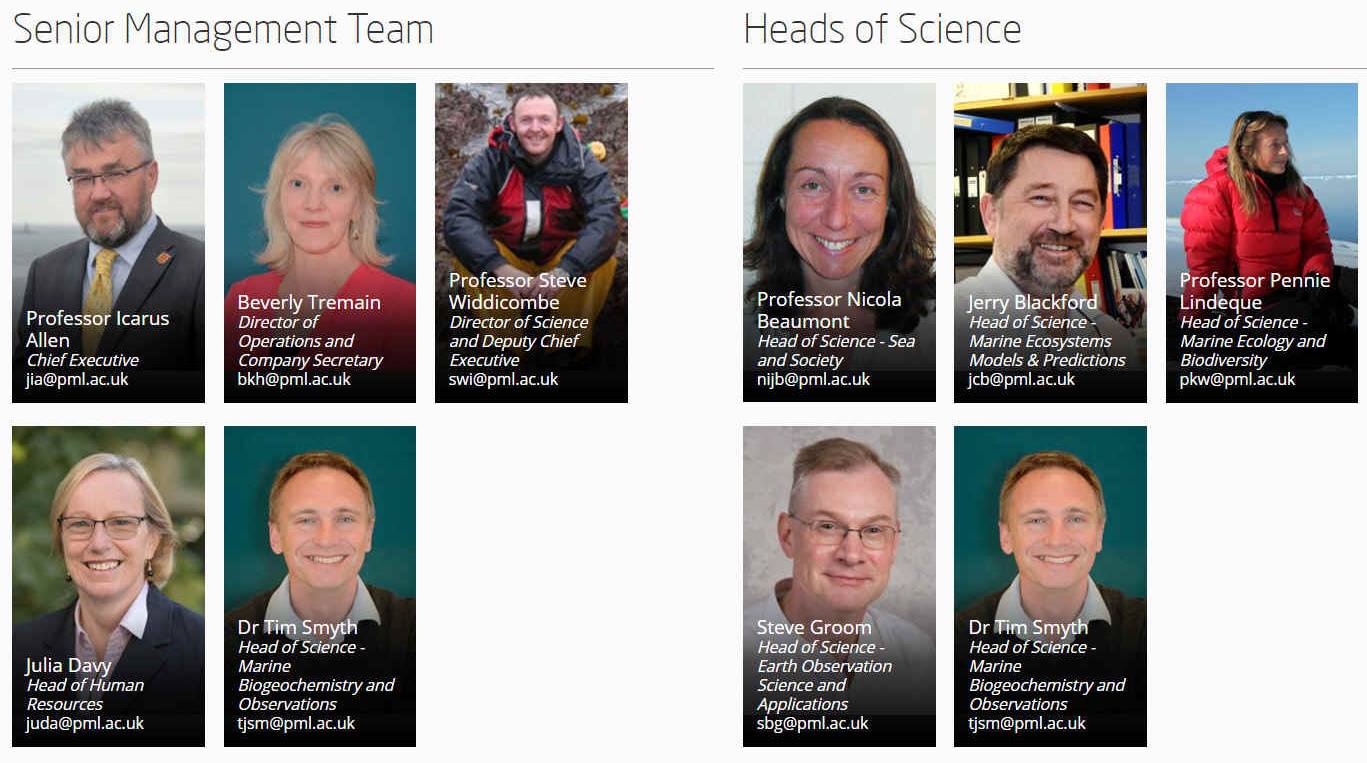 PML - Senior management and heads of science
GEOSPATIAL APPLICATIONS

Satellites provide timely and comprehensive large spatial scale observations of the Earth's surface, with aircrafts and drones providing detailed views, complementing in situ and shipboard measurements. The Centre for Geospatial Applications (CGA) team of experts apply and develop algorithms and software to produce data products from these on a commercial, operational basis.

The CGA focuses on Earth observation (EO), geographic information system (GIS), and data visualisation activities, providing local, to regional and global Earth observation data and analysis in relation to:

- Industrial operations such as for shipping (including i.e. fouling risks projections), oil spill detection and coastal power plants, e.g. monitoring jellyfish blooms and drifting seaweed concentrations.
- Food security through fisheries and aquaculture, e.g. the impact of harmful algal blooms and monitoring illegal, unlicensed and unreported fishing.
- Water quality, e.g. eutrophication, harmful algal blooms, identification of floating debris including marine plastics

Near real time and delayed time satellite data are available as well as access to long term time-series data. Technical support is provided, with a 24/7 option available. A comprehensive open source web-based Geographic Information System (GIS) tool has been developed by the team and is available for visualisation and analysis of geospatial data.

Clients range from UK and international SME's to large multi-nationals as well as government departments and intergovernmental organisations. The CGA is closely aligned with the Plymouth Marine Laboratory Earth Observation experts, globally acknowledged as being at the forefront of developing and refining techniques, improving accuracy of the information that can be gained from satellites, aircraft and drones.

Training courses by our experts on using satellite data for ocean observation are available for a range of audiences. CGA is working with the intergovernmental European Organisation for the Exploitation of Meteorological Satellites (EUMETSAT) to provide training on using satellite-based ocean observation Sentinel-3 data from Copernicus, a European system for monitoring the Earth using satellites and ​in situ sensors.

For further information contact: Ben Calton, bac@pml.ac.uk who heads up the CGA.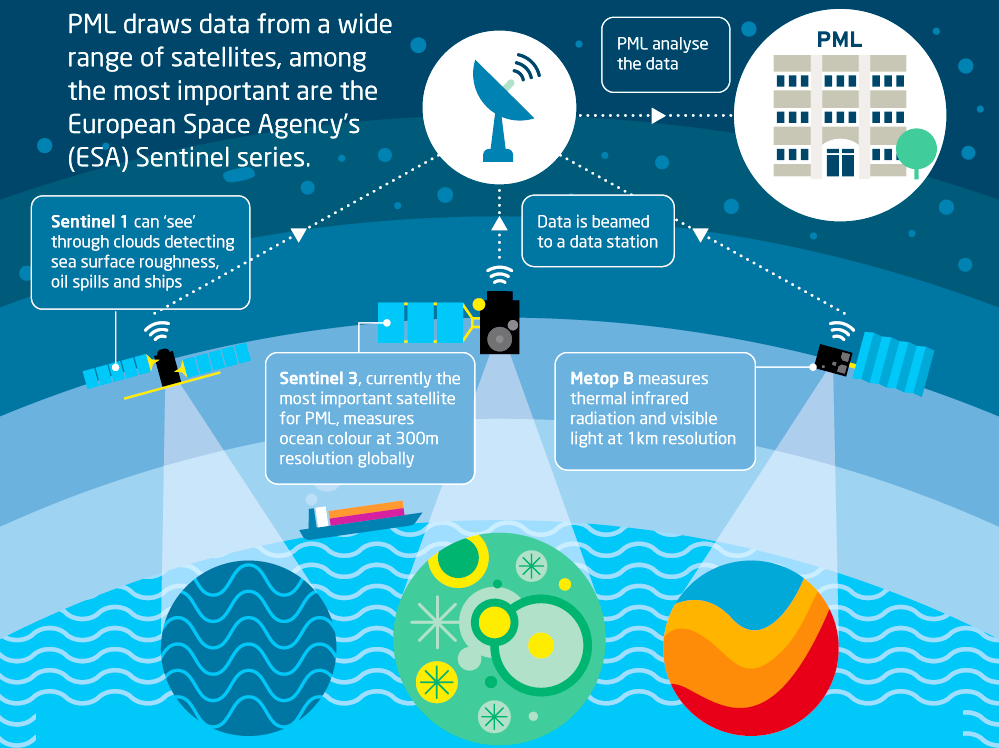 EUMETSAT

"The intergovernmental European Organisation for the Exploitation of Meteorological Satellites (EUMETSAT), a global operational satellite agency, contracts PML Applications to provide training to international stakeholders on using satellite-based ocean observation data. PML Applications' considerable satellite data analysis and visualisation expertise means that they are ideally suited for this important activity. "
Christine Traeger-Chatterjee - Training Officer, User Support and Climate Services at EUMETSAT

ANTIFOULING - RESEARCH & DEVELOPMENT

The demand for more effective, low cost, low impact antifouling coatings is constantly growing as our marine environment is being further utilised to meet society's growing needs for energy, food and transport. The Centre has the experience and expertise to undertake confidential coating efficacy assessments to ensure our clients' infrastructure is properly protected.

CORROSION

Corrosion related maintenance and failure represents one of the biggest operating costs to marine industries. To prevent corrosion effectively it is vital to understand the corrosion process and the marine environment in which this takes place. The Centre for Marine Biofouling and Corrosion helps to safeguard clients' assets by integrating corrosion and biofouling control from the design stage and investigating novel corrosion control approaches for specific applications.

Effective biofouling management starts at the design phase and matches a detailed understanding of the operating environment with an appropriate antifouling technology selection. The Centre for Marine Biofouling and Corrosion provides an independent and impartial route to biofouling control and antifouling technology selection, providing you with a competitive advantage.
CLIENTS

ROLLS-ROYCE

Rolls-Royce engaged with PML Applications Ltd to undertake a challenging marine engineering project. The project investigated a novel anti-fouling technology for marine propellers. The team at PML Applications Ltd were quick to appreciate the potential for this technology. They helped us evaluate and demonstrate the technology working up from test pieces up to full size components. PML Applications Ltd undertook unique testing with bespoke test rigs to evaluate propeller fouling in a real-world marine environment. This developed the technology from TRL 3 to TRL 6 and we are now seeking to commercialise our novel antifouling technology.

"PML Applications Ltd were responsive and reliable, delivering an excellent quality of technical work. They were able to address the unique aspects of this project and overcame many technical challenges, ensuring that they always delivered on time and within budget."

- Alexis Lambourne - Materials engineer

SIEMENS

"PML Applications Ltd were an invaluable partner in our study of the effect of marine growth on our subsea connection systems in marine energy environments. From desk-top study and professional advice, through to design of the subsea trials, and then work offshore to evaluate and report on the recovered test rig.
Their professionalism, their extensive knowledge and experience and passion really shone through. They were able to give us advice and solutions that took the theory and observed results, and apply that to what would work on our specific products in the real-world. They always went the extra mile. Highly recommended."

- Rob Wyatt, Product Manager
ATHENA SWAN
PML is strongly committed to the culture and principles of Athena SWAN, and are proud to have received an institutional Bronze Athena SWAN award. This award recognises and celebrates good practice in recruiting, retaining and promoting women in science, technology, engineering, maths and medicine (STEMM) in research and higher education.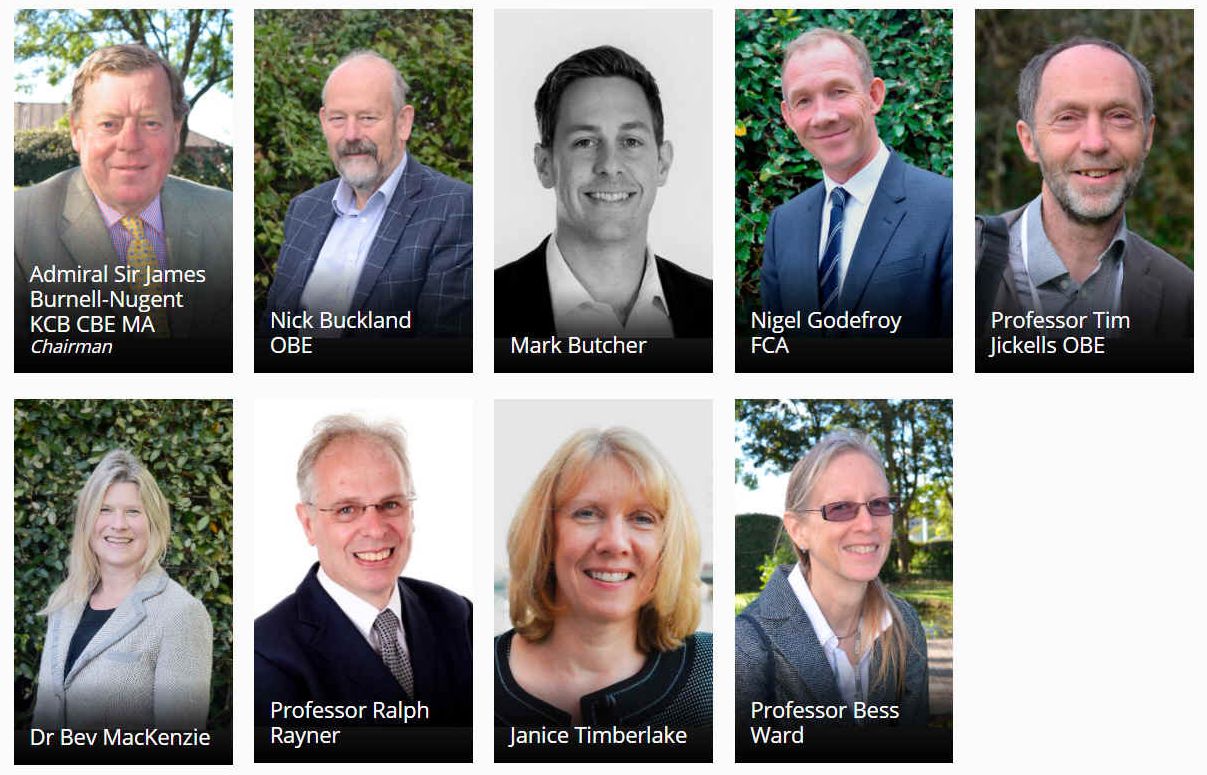 PML - Board of Trustees
CONTACTS
Plymouth Marine Laboratory
Registered charity no: 1091222
Prospect Place
Plymouth, PL1 3DH
United Kingdom
Tel: +44 (0)1752 633 412
forinfo@pml-applications.co.uk

Dr Tom Vance - Business Development Manager: thva@pml.ac.uk

Tel: +44 (0)1752 633 100
Fax: +44 (0)1752 633 101
Email: forinfo@pml.ac.uk

For enquiries relating to vacancies, studentships and other opportunities see: careers@pml.ac.uk

http://www.twitter.com/plymouthmarine
https://www.facebook.com/PlymouthMarineLaboratory/
https://www.linkedin.com/company/plymouth-marine-laboratory-&-pml-applications-ltd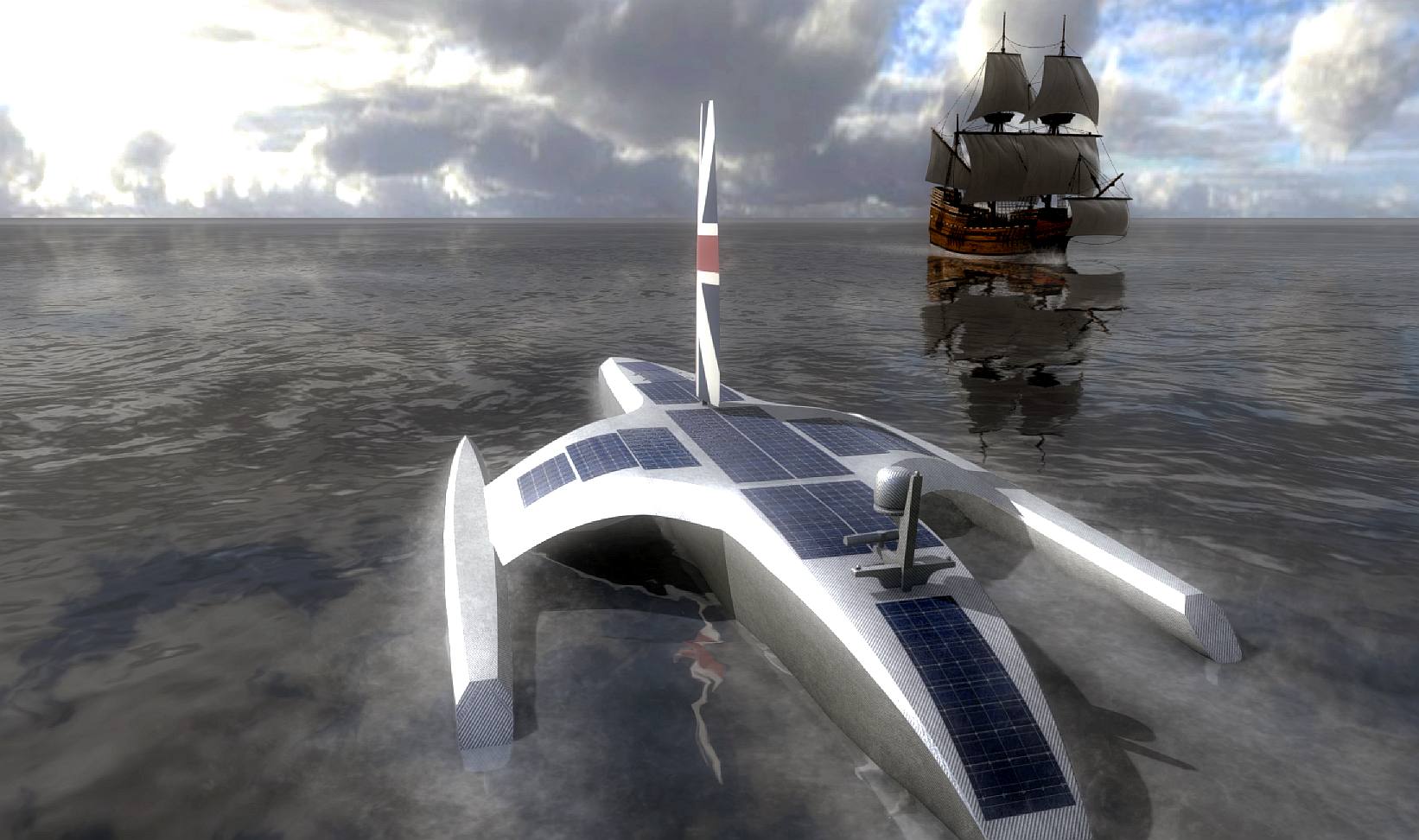 LINKS & REFERENCE
https://www.pml-applications.co.uk/
https://biofoulingcorrosion.co.uk/
https://www.pml.ac.uk/Research/Projects/CAMPUS
https://www.pml.ac.uk/
https://mas400.com/
https://newsroom.ibm.com/then-and-now