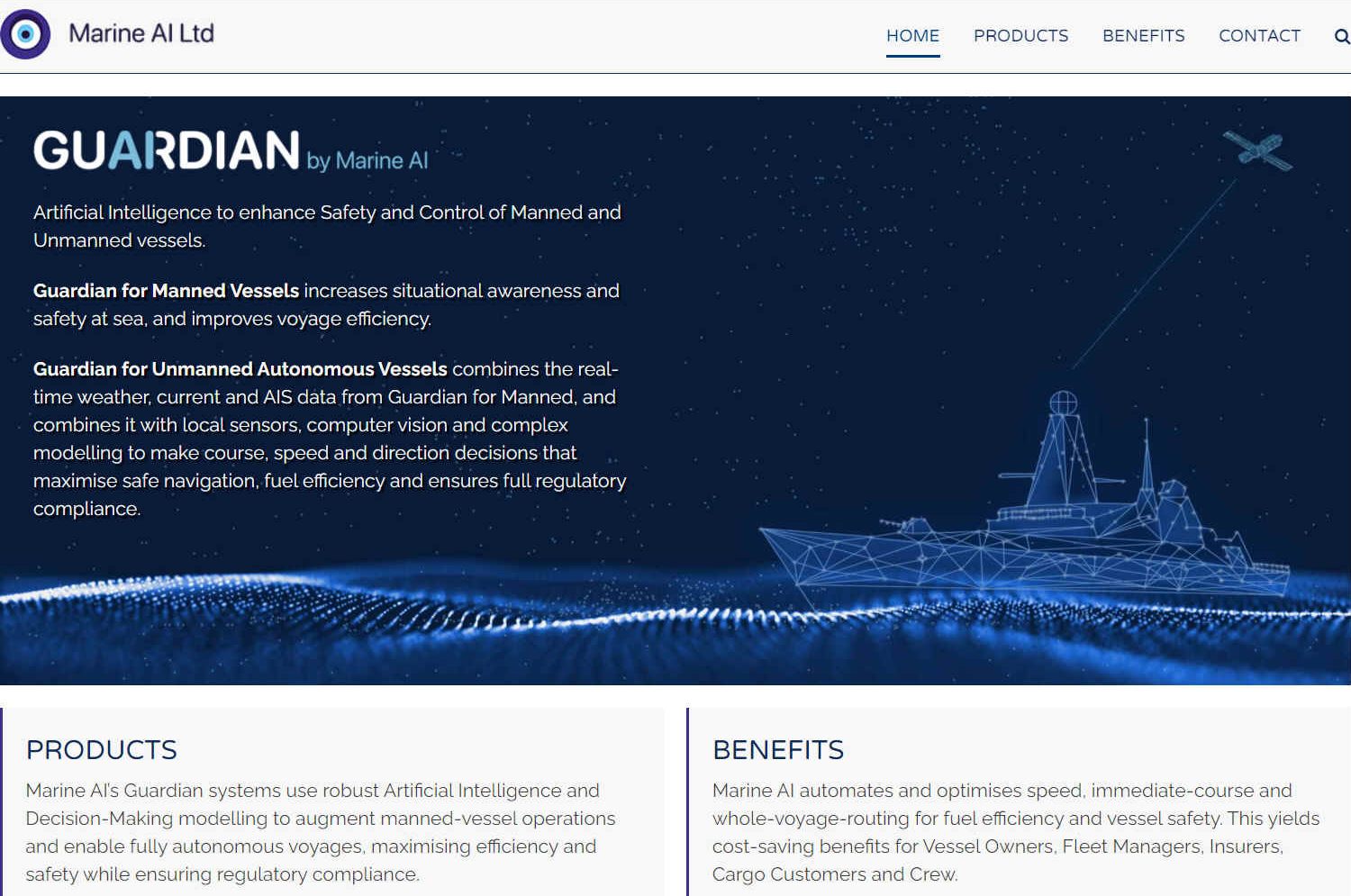 MARINE AI - Is partnered with Nvidia and IBM
Marine AI offers two versions of their Guardian AI (Artificially Intelligent) system:
1. Guardian Manned augmenting bridge-crew capabilities, and
2. Guardian Autonomy for autonomous, crew-less operations.

Guardian for Unmanned Autonomous Vessels combines the real-time weather, current and AIS data from Guardian for Manned, and combines it with local sensors, computer vision and complex modelling to make course, speed and direction decisions that maximise safe navigation, fuel efficiency and ensures full regulatory compliance.
This has to be balanced against the additional cost of the vessel and complexity when repairs are necessary.

Marine AI is 'Explainable AI'; every decision is transparent, auditable and able to be interrogated on-the-fly. It is built upon IBM's powerful Operational Decision Manager ODM software – the same software relied upon daily for mission- and business-critical decision making.
Don Scott from Ontario, Canada, is the CTO of Marine AI.

MANNED

- Manned vessel safety
- Collision avoidance
- Navigational safety
- Weather avoidance
- Efficient route planning
- Remote visualisation
- Bridge training.

UNMANNED

- Unmanned vessel safety & control
- Control delivering intelligent system management
- Safety delivering deterministic rule-sets (i.e. weather, COLREGS, SOLAS, ROE)
- Autonomy delivering AI path planning and goal management underpinned by safety

BENEFITS FOR VESSEL OPERATORS & INSURERS

Insurance companies can benefit from the various risk-reductions made possible by the Guardian systems:

- Reduce portfolio risk
- Reduce underwriting costs
- Fewer collisions
- Fewer personnel and crew accidents
- Reduced cargo loss or damage
- Enforcement of policy-dependent operating limitations
- Improves fuel efficiency
- Time-efficient trans-oceanic journey planning
- Real-time, en-route weather avoidance
- Minimise vessel damage and subsequent down-time
- Enforce organisational sea-state and environmental limits
- Clarity of safety performance metrics
- Efficient utilisation of vessels
- Alerts to Master-of-vessel deviations from approved course
- Fully-COL-REG compliant instructions.

CONTACTS

42 Sisna Park Road,
Sisna Park Road,
Plymouth,
PL6 7FH,
United Kingdom

+44 (0)1752 696 069
info@marineai.co.uk
LINKS & REFERENCE
https://marineai.co.uk/
https://mas400.com/
https://newsroom.ibm.com/then-and-now