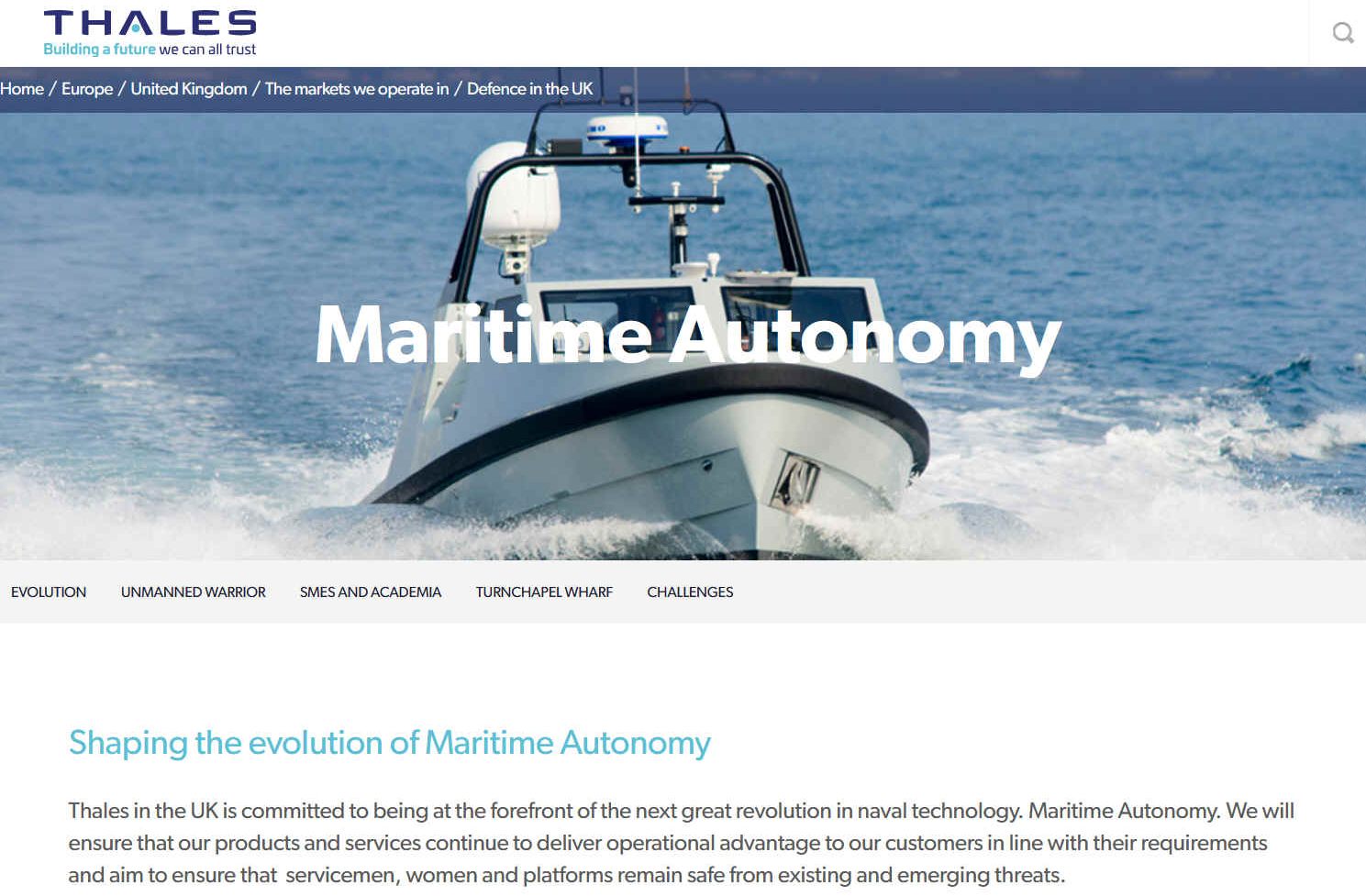 THALES - Provide defence and cyber security solutions


According to their website and media released and articles, Thales is keen to pursue marine autonomy, such as not to be trailing in the technological wake, but rather on the leading edge.

PRESS RELEASE 10 JANUARY 2019
Thales UK has welcomed the announcement by MSubs about a significant technology investment around Plymouth that further enhances the city's reputation for operating world class maritime autonomy operations.

On the 10th of January Msubs said it has installed a 'game changing' sensor system with connected artificial intelligence (AI) machine-learning technology around Plymouth Sound as part of the vision to turn the city into a centre of excellence for unmanned vehicles.

Plymouth-based M Subs is held to be a global leader in the development of manned and unmanned underwater vehicles. They will operate a secure network of cameras, radars, and other sensors which will provide situational awareness and communications with the unmanned vehicles operating out of the city's harbour.

The system will also provide the command & control of unmanned vehicles using the nearby ranges at sea. Data from the network is being collected and analysed by machine learning programmes by MSubs' growing AI team, with the assistance of Thales and a global and corporate partner leading in the field of machine learning and artificial intelligence.

The results of this work will finalize development of the computing system at the heart of the maritime AI system to navigate the Mayflower Autonomous Ship across the Atlantic Ocean in celebration of the 400th anniversary of the original Mayflower sailing in 1620.

Brett Phaneuf, Managing Director of MSubs, says: "Although our initial interest was in the application of AI to assist the war fighter, our burgeoning relationship with Thales and our US-based AI partner, has opened our minds to the innumerable potential uses of AI. Combine this with the expanding data collection facilities we have in the Plymouth Sound are we are well placed to lead on the development of this game changing technology."

In October 2018, Thales announced it was opening a new maritime autonomy centre at Plymouth, with an aim to build relationships with industry and academia to operate unmanned vessels out of Plymouth Sound.

Plymouth based M-Subs Ltd are recognised as the UK's leading manufacturer of military submersibles.
AGREEMENT 17 DECEMBER 2018
In December 0f 2018 Thales and MSubs announced a new maritime autonomy agreement.
Following the recent opening of a new UK maritime autonomy centre in the south-west of England, Thales was pleased to announce it has signed an agreement with Plymouth-based MSubs Ltd.

That agreement combined Thales' global pedigree in delivering complex sensors and systems with a world leading company in the design, manufacture and operation of manned and unmanned submersibles.

The new Turnchapel Wharf facility was opened in October 2018 by Stuart Andrew MP, Minister for Defence Procurement. Thales had invested £1 million in the facility to build on its leadership in autonomous systems and strengthen the position of UK industry in an emerging market.

One of the key strategic aims of investing in the facility was to develop an ecosystem of specialists and experts around Plymouth, bringing together industry and academia to establish a world class research and development facility for the UK. Much the same happened in Southampton at the NOC.

The agreement with MSubs was the first after Turnchapel was opened. Speaking of its significance, Matt Hunt is quoted as saying:

"This agreement is the first of many anticipated in the creation of a local ecosystem where Thales is investing in making Plymouth the centre for the development of UK Maritime Autonomy."

"Thales is committed to establishing this vibrant ecosystem and believes this is key to delivering world leading marine and maritime capability to our customers and attracting innovation to the area. This agreement is a clear message that Thales believes the blue economy is strategically important."

Mr Hunt was the Maritime Autonomous Systems (MAS) Lead for Thales in the UK. Paddy Dowsett of MSubs is quoted as saying:
"We are excited about the prospect of working closely with Thales as the role of military Unmanned Underwater Vehicles (UUVs) expands into deeper water. We look forward to combining our unrivalled experience in the design and manufacture of manned and unmanned military submersibles with their market leading expertise in sensors and command and control systems.

Together we are well placed to support the RN and NATO partners with a range of unmanned underwater vehicles capable of conducting sophisticated and discreet anti-submarine and intelligence gathering missions."

Turnchapel provides access to the Plymouth Marine Autonomous Range that will be central to safe trials and development of autonomous systems. The centre is also an integral part of a joint programme between the UK and French Governments to develop the next generation of autonomous mine hunting systems (maritime mine counter measures).

Speaking at the opening, Defence Minister Stuart Andrew is quoted as saying:
"Thales's new centre is another great example of the work being done by our suppliers to ensure our military remains equipped with state-of-the-art capabilities. This centre of excellence will enable industry and academia to experiment and innovate together to help counter emerging sea-based threats and ensure we remain one of the world's leading militaries."

The centre will also be available to academia, enabling institutions working in partnership with Thales – such as the Universities of Plymouth, Southampton and the National Oceanography Centre – to take advantage of Turnchapel's world-class facilities.
HELPING TO SHAPE MARITIME AUTONOMOUS EVOLUTION

Thales in the UK is committed to being at the forefront of the next great revolution in naval technology, thought to be Maritime Autonomy. They aim to ensure that their products and services continue to deliver operational advantage to customers in line with their requirements and aim to ensure that servicemen, women and platforms remain safe from existing and emerging threats.

COLLABORATION WITH SMEs & ACADEMIA

Thales is working hard to become a trusted partner for small and medium sized enterprises (SME) and academia, unlocking the potential of maritime autonomy and creating opportunities for everybody in a nascent sector.

We recognise that SMEs provide agility and open innovation which complements the resources and access to markets and legislators that larger companies offer, particularly when barriers to entry inevitably arise. Thales has a long pedigree in technical innovation and excellence, overcoming challenges such as legislative compliance, security clearance and legal liability.

Thales is transparent about the immaturity of MAS technology and the global market. No company can truly claim a monopoly on expertise, this is why we are encouraging and fostering collaboration through the development of an eco-system of knowledge and experience, with the ability to be agile and responsive to opportunities as they arise.

We are committed to fostering and developing academia, investing in sponsorship programmes and collaborative ventures. Our long-standing connections with Plymouth Council, Southampton University, Bristol University, the South Coast Marine Cluster, The National Oceanography Centre (NOC) and the University of Plymouth's Marine Institute, sharing knowledge and expertise for mutual benefit.
TURNCHAPEL WHARF: CENTRE OF MARINE AUTONOMY EXCELLENCE

Continuing the long history Turnchapel Wharf has with the Royal Navy, Royal Marines and Industry, Thales will deliver a UK Centre of Autonomy for the development, assessment and certification of autonomous systems at our new waterfront facility in Plymouth. Turnchapel Wharf will change the way autonomous capability is developed over the next decade by enabling rapid exploration and exploitation of emergent and disruptive technologies.

The UK Centre of Autonomy will offer a secure location to conduct a full evaluation cycle for multi domain platforms. Its facilities include meeting rooms, office space and network services with adjacent water side facilities including secure, fully equipped workshops and storage, platform mooring for multiple craft including Thales's autonomous capability development platform and rapid access to the sea via a slip way.

Turnchapel Wharf has an enviable location affording trials teams rapid access to both shallow and deep water. This access will increase actual trials time by decreasing transits and will enable progressive trials to be planned around differing sea conditions from sheltered shallow waters to deep open sea in the English Channel.

Turnchapel Wharf had been fitted out by Thales with the explicit requirement for the development, assessment and certification of maritime autonomy. The team are ready to rapidly conduct or facilitate any size task on any type of system, offering unparalleled facilities and access to the North Atlantic.

If MAS development becomes a race, Thales intends to be at the front.


CONTACTS

Matthew Hunt, Maritime Autonomous Systems Lead

T:+44 (0)7891426648 E: matthew.hunt@uk.thalesgroup.com

Chris Wardman, Sales and Marketing Manager

T: +44 (0)7583036330 E: chris.wardman@uk.thalesgroup.com

Deputy Group Communications Director

Cédric Leurquin +33 (0)1 57 77 90 93 +33 (0)6 31 01 53 25
cedric.leurquin@thalesgroup.com

Group & Innovation

Alice Pruvot - +33 (0)7 70 27 11 37 Alice.pruvot@thalesgroup.com


INTERNATIONAL CONTACTS

AUSTRALIA
Jasmin Hilleard - +61 420 903 636 jasmin.hilleard@thalesgroup.com.au

AUSTRIA
Ruth Boyer - +43 1 27711 5922 ruth.boyer@thalesgroup.com

BELGIUM
Mélanie Catoir - +32 71 44 26 29 melanie.catoir@thalesaleniaspace.com
CANADA
Samara Ben-Reuven - +1 (613) 723 70 00 Samara.BEN-REUVEN@ca.thalesgroup.com
CHINA
Tammy Qiu - +86 135 0111 1213 tammy.qiu@asia.thalesgroup.com
GERMANY
Pitt Marx - +49 7156 353-34977 pitt.marx@thalesgroup.com
INDIA
Pawandeep Kaur - +91 11 66510430 pawandeep.kaur@thalesgroup.com

ITALY
Elisa Benzoni - +39 65 156 1443 elisa.benzoni@thalesgroup.com
JAPAN
Margaux Balcerek - margaux.balcerek@asia.thalesgroup.com

LATIN AMERICA
Jacqueline Takemasa - +55 11 3198-5272 jacqueline.takemasa@thalesgroup.com
MIDDLE EAST
Tarek Solimane - +971 564162566 tarek.solimane@thalesgroup.com
NORDICS & BALTICS
Lynne Scott Walters - +45 21191441 Lynne.Scott-WALTERS@thalesgroup.com

POLAND
Rafal Weltrowski - +48 668272329 rafal.weltrowski@thalesgroup.com
PORTUGAL
Sofia Lanca - +351 211549999 sofia.lanca@external.thalesgroup.com
ROMANIA
Irina Marina Ion - irina.ion@thalesgroup.com

SOUTH EAST ASIA
Serene Koh - +65 65 94 68 98 serene.koh@asia.thalesgroup.com

SOUTH KOREA
Kelly Sung - +82 220884695 kelly.sung@thalesgroup.com

SPAIN
Adolfo Aguilar - +34 91 273 7211 adolfo.aguilar@thalesgroup.com

SWITZERLAND
Petra Keller - +41 79 860 58 81 petra.keller@thalesgroup.com

NETHERLANDS
Job Van Harmelen - +31 (0)74 2482951 job.vanharmelen@nl.thalesgroup.com

UNITED KINGDOM
Adrian Rondel - +44 (0) 7 971 414 052 adrian.rondel@uk.thalesgroup.com

USA
Adam Kostecki - +1 703 838 5645 adam.kostecki@us.thalesgroup.com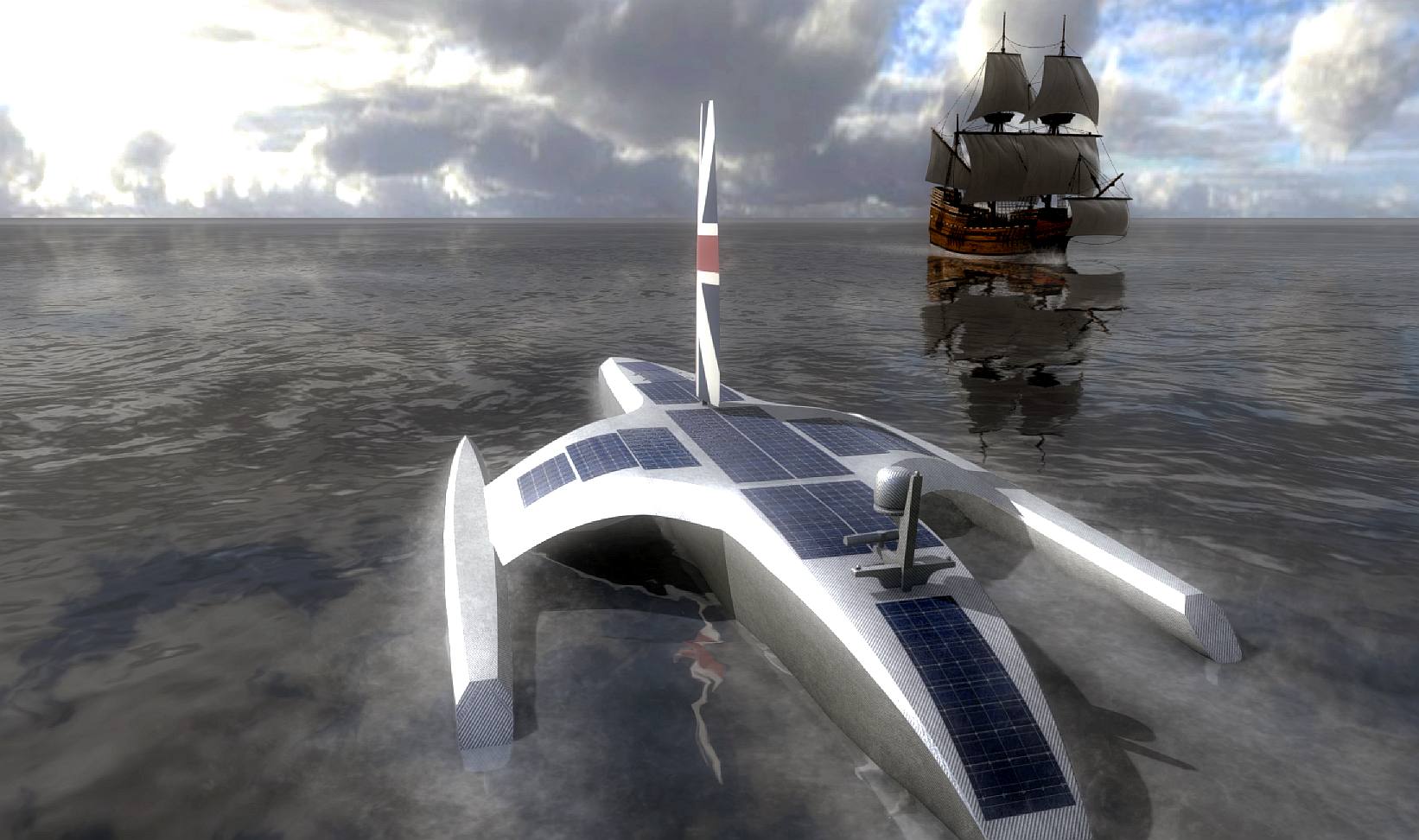 LINKS & REFERENCE
https://www.thalesgroup.com/en/countries/europe/united-kingdom/markets-we-operate/defence/maritime-systems-uk/maritime-autonomy
https://www.thalesgroup.com/
https://mas400.com/
https://newsroom.ibm.com/then-and-now