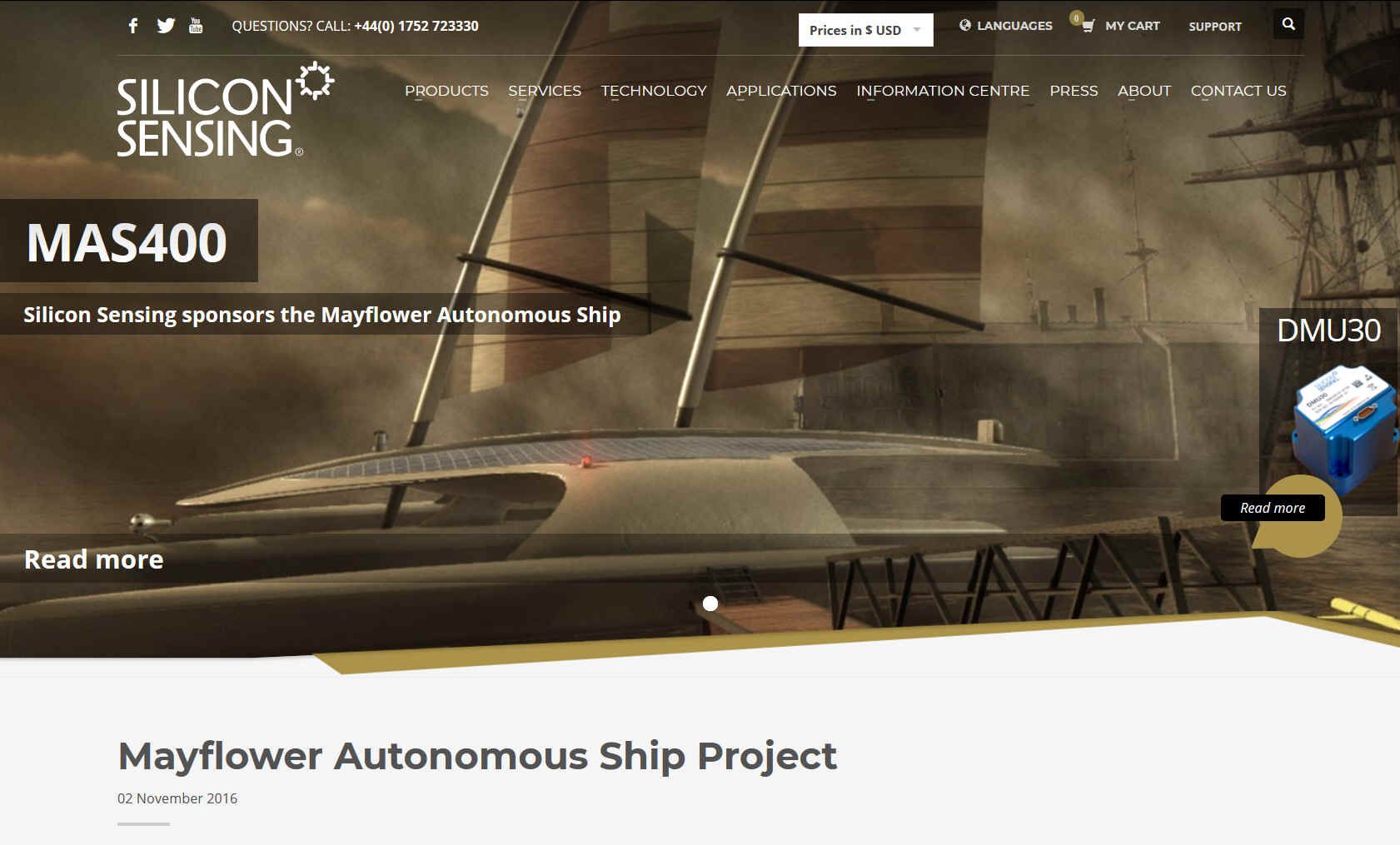 INERTIAL NAVIGATION - Is commonly used on underwater craft such as submarines and submersibles for positional fixing. GPS and dead reckoning may suffice for autonomous navigation, but as a prototype with potential military spin-off, it makes perfect sense.


Silicon Sensing develop, manufacture and supply high-precision MEMS gyroscopes, MEMS accelerometers and MEMS IMUs - inertial sensors to support accurate measurement, guidance, stabilisation, navigation and control in marine, automotive, industrial, agricultural and aerospace applications.

Their sensors can be found in growing industries requiring the highest level of performance, such as medical robotics and autonomous vehicles, and in some of the most extreme environments, including downhole drilling and space.

Established in 1999, but with a heritage in gyroscope technology dating back 100 years, Silicon Sensing has supplied over 20 million inertial sensors to all commercial and industrial markets.
MAYFLOWER
On 6th September, back in 1620, the 'Mayflower' set sail for America with 102 intrepid early settlers bound for the new land across the Atlantic Ocean, a perilous journey which took 66 days to reach what we now know as Cape Cod, Massachusetts, USA.

To mark the 400th anniversary of this undertaking, a team led by US-owned but Plymouth-based firm MSubs, and including Plymouth University and ProMare (a charitable research foundation), has an audacious plan to design and build a fully autonomous ship to make the same Atlantic crossing, completely unmanned, in 2020. During the voyage, the Mayflower Autonomous Ship – MAS400 – will conduct a series of scientific experiments before arriving at its destination in the USA. Unlike the Mayflower however, the final destination isn't America, as the plan is for MAS400 to continue on an unmanned circumnavigation of the globe, eventually returning to its home port of Plymouth.

Silicon Sensing is to provide a package of support to help turn the MAS400 concept into reality. In addition to sponsorship of the project, Silicon Sensing will supply its latest precision MEMS IMU (Micro Electro-Mechanical Systems - Inertial Measurement Unit), the DMU30, to provide the inertial sensing data within the electronic autopilot to help guide MAS400 during its ocean adventures. MSubs and Silicon Sensing have been collaborating on the evaluation of DMU30 for future INS-based surface and subsea navigation solutions for a variety of projects at MSubs.

For information on the Mayflower project and Silicon Sensing, please contact:

Eric Whitley, Business Development Manager +44 (0)1752 722156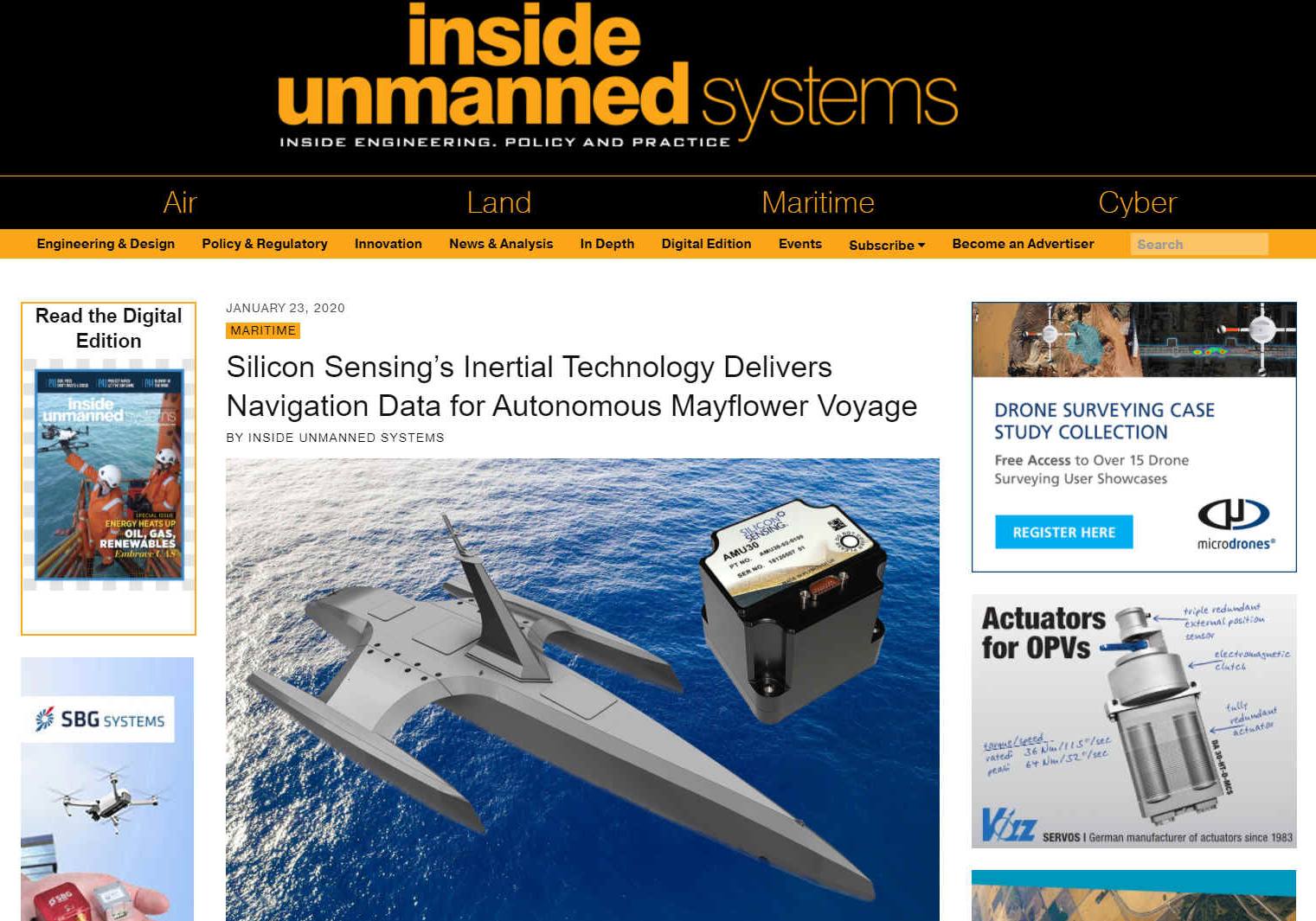 INSIDE UNMANNED SYSTEMS 23 JANUARY 2020

Silicon Sensing's Inertial Technology Delivers Navigation Data for Autonomous Mayflower Voyage

Two Silicon Sensing Systems ultra-precise AMU30 inertial measurement units (IMUs) will provide critical navigation data to the autopilot capability for the Mayflower Autonomous Ship (MAS) throughout her milestone trans-Atlantic voyage this autumn.

Setting sail this September, the 15 meter-long, 5-ton MAS400 will repeat the Mayflower's original epic voyage 400 years ago. Led by marine research organization ProMare and powered by IBM, she will sail from Plymouth, England to Plymouth Massachusetts, USA. Instead of a captain and crew, she will use computer vision, machine learning, edge technologies and sensors to navigate and detect hazards.

Silicon Sensing's AMU30 devices will form two vital units within the MAS navigation suite, constantly delivering precise 3-axis data on angular rate and acceleration plus roll, pitch and heading angles, altitude and pressure, and temperature to the ship's autopilot.

Travelling at a maximum speed of up to 12 knots [presumably on diesel power], MAS is expected to take just 12 days to reach the coast of Massachusetts – a fraction of the 66 days of the voyage four centuries ago. Throughout the voyage the ship will also function as a scientific laboratory. On board sensors will transmit data for critical research programmes in areas such as maritime cybersecurity, marine mammal monitoring, ocean micro-plastic analysis and sea-level mapping.

Steve Capers, General Manager, Silicon Sensing Systems Ltd, comments: "We are an official sponsor of this inspirational project and have been contributing our technical expertise for a number of years now. The MAS400 represents a new generation of research ships that will further humanity's understanding of the ocean. This vessel pushes the boundaries of 21st century marine technology whilst also being at the heart of the Mayflower anniversary celebrations, based in Silicon Sensing's home town – Plymouth, UK.

AMU30 is Silicon Sensing's first product to combine high performance micro electro-mechanical systems (MEMS) IMU with a full attitude and heading reference system (AHRS). The device comprises a proven ten degree-of-freedom IMU with a three-axis magnetometer, pressure sensor and a sophisticated AHRS algorithm. This new device has been developed to replace far heavier, larger and more costly fibre optic gyro-based devices, delivering impressive all-MEMS inertial performance, including exceptional bias stability and low noise characteristics, with a proven, embedded Kalman Filter based AHRS algorithm.

Steve Capers, continues: "An evolution of our established devices, we believe AMU30 has immense potential in applications as diverse as hydrographic surveying, maritime guidance, airborne surveillance, terrain mapping, machine control, inertial navigation and GPS drop-out aiding – and here in autonomous vehicle control. As a Plymouth-based operation we are particularly proud that data from our latest device will help guide this truly impressive vessel."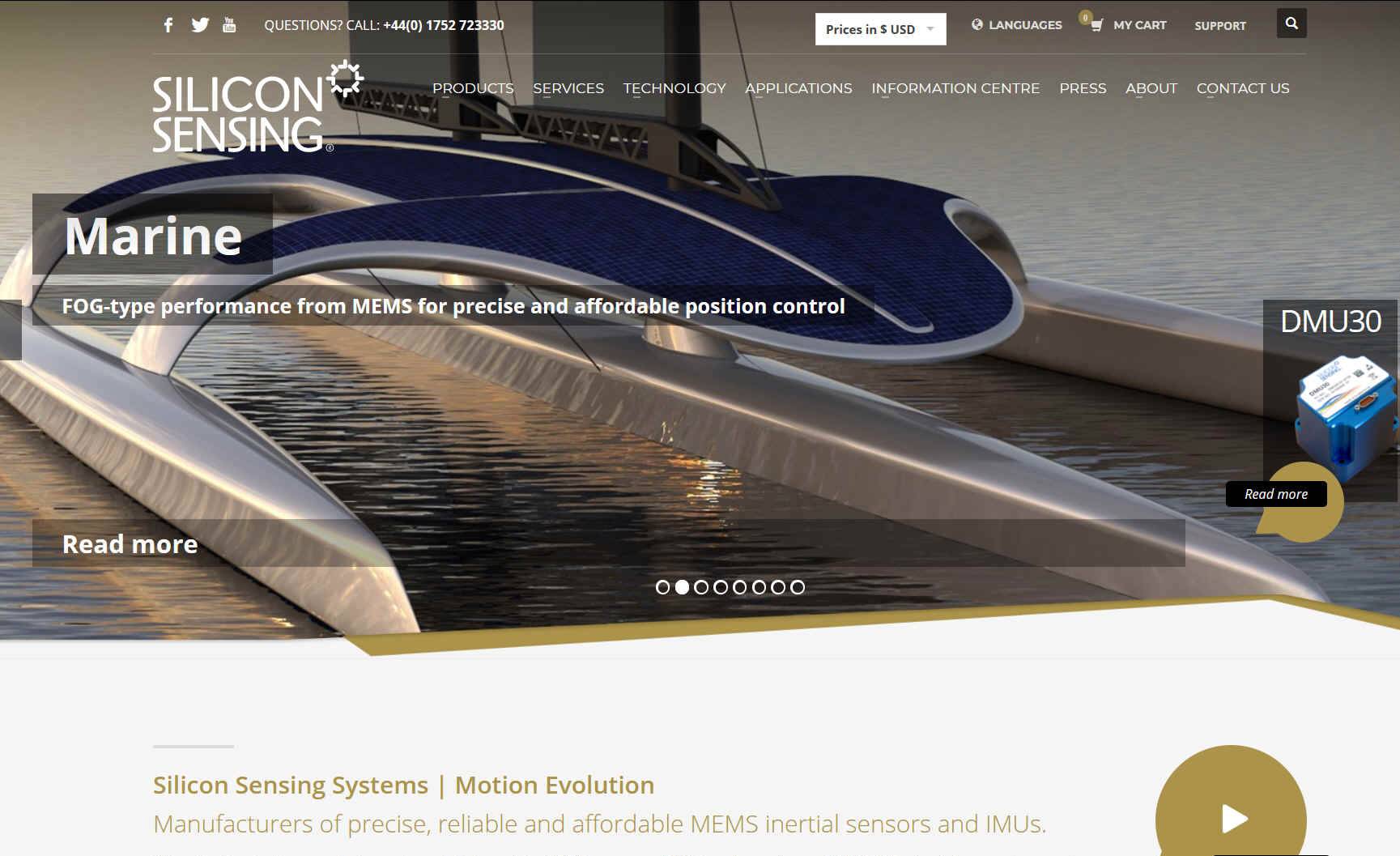 CONTACTS

Silicon Sensing Systems Limited
Clittaford Road, Southway
Plymouth, Devon, PL6 6DE
United Kingdom
T +44(0) 1752 723330
Email: sales@siliconsensing.com


1-10 Fuso-cho, Amagasaki
Hyogo 660-0891
Japan

Phone : +81-6-6489-5868
Fax : +81-6-6489-5919
E-mail: sssj@spp.co.jp
Website : www.sssj.co.jp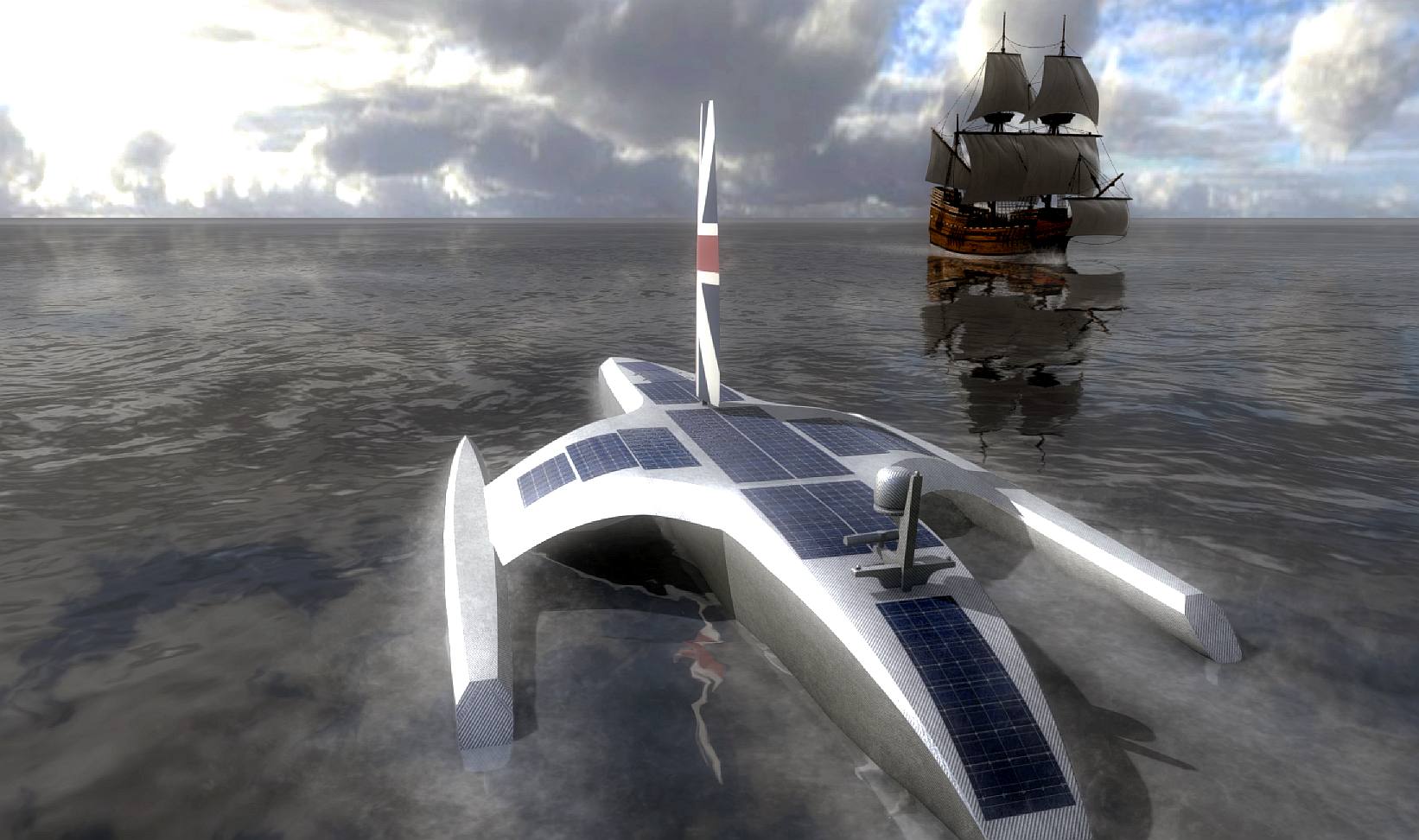 LINKS & REFERENCE
https://insideunmannedsystems.com/silicon-sensings-inertial-technology-delivers-navigation-data-for-autonomous-mayflower-voyage/
https://www.siliconsensing.com/press/mas400/
https://www.siliconsensing.com/home/
https://mas400.com/
https://newsroom.ibm.com/then-and-now