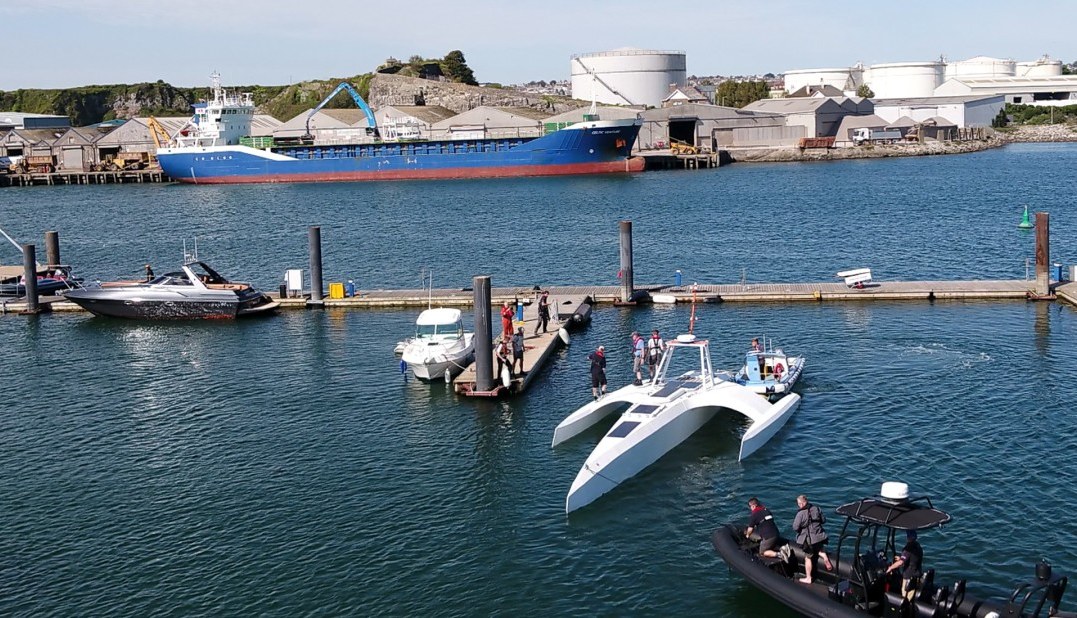 MAYFLOWER TRIMARAN - 1. The solar-powered research boat will aim to traverse the Atlantic Ocean in 2021 with no humans on board. 2. Sea trials are due to commence off the south coast of England in late 2020. 3. The Mayflower was officially unveiled on September 16th 2020, the 400th anniversary of the original Mayflower departure.
Promare is a not for profit organization established in 2001 to promote marine research and exploration throughout the world, Promare is a public charity, 501(c)(3).

The Promare team of experienced archaeologists and marine professionals execute a variety of research projects independently and in concert with academic, corporate, public, and governmental organizations and agencies that are designed to advance manís knowledge of history and science.
In 2016, ProMare Co-Founder Brett Phaneuf attended a meeting to discuss how to recognize the 400th anniversary of the 1620 Mayflower voyage.

A submarine builder by trade and robotics and underwater systems expert, Phaneuf didn't support building another replica. Instead he suggested doing something bold, courageous and new: building a Mayflower for the 21st century.
According to media reports, Msubs have recently won a £2 million pound contract from the Royal Navy. Some might think this a contradiction, in terms of ocean conservation, where charities may be better served without potential conflicts of interest to cloud issues in the minds of contributors and the watching public. Otherwise, some might think the exercise is underpinned with military, rather than conservation objectives - since the US also have autonomous minesweeper and warship projects. Though, and as seen on their website, Promare appear to undertake many marine projects, that are no doubt highly valued in the scientific oceanic community.

This futuristic vessel that came out of the meetings Mr Phaneuf references, was to be powered by AI and the energy from the sun and would be on a global mission of discovery, designed to collect data to help safeguard the future of the oceans. The quest has since expanded to a multicultural and diverse team across 10 countries and 3 continents and has inspired the support of multiple companies and organizations all over the world.
We note that there is an onboard diesel generator, that might charge the batteries or, presumably, power the electric propulsion motors. Perhaps it is to supplement the small solar panel area?
CONTACTS

Ayse D. Atauz Ė President
ProMare
4 Water Street
P.O. Box 450 Chester
CT 06412 USA

ayse@promare.org
+44 7729 426283

info@promare.org
+1 860-526-4911
+1 860-526-3160

https://www.facebook.com/Promare.org/
https://www.linkedin.com/company/promare
LINKS & REFERENCE
http://www.promare.org/
https://mas400.com/
https://newsroom.ibm.com/then-and-now