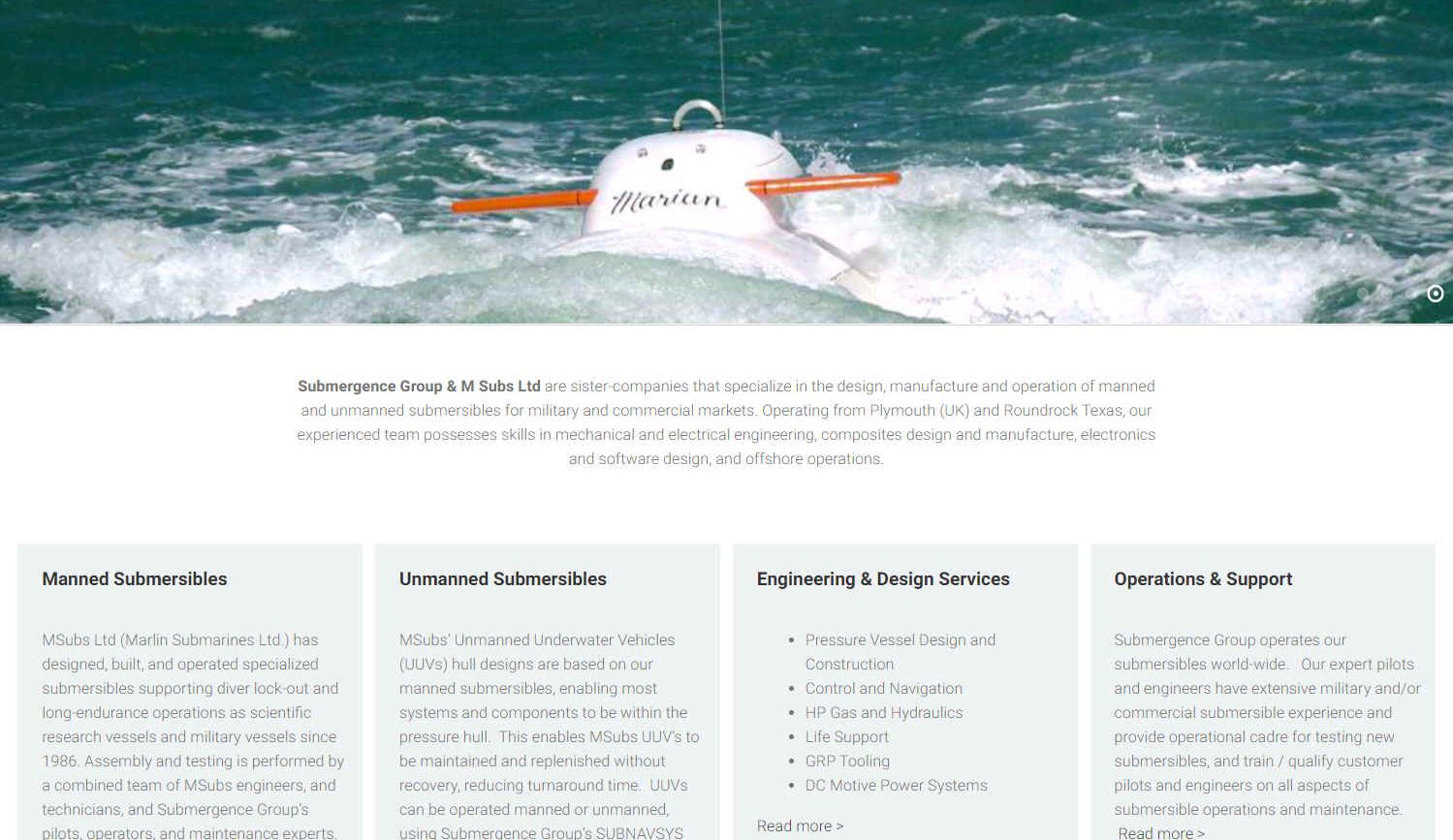 MSUBS - Is the UK arm of the Submergence Group
Submergence Group & M Subs Ltd are sister-companies that specialize in the design, manufacture and operation of manned and unmanned submersibles for military and commercial markets. They operate out of Plymouth, UK and Roundrock, Texas, USA. Their experienced team possesses skills in mechanical and electrical engineering, composites design and manufacture, electronics and software design, and offshore operations.

ENGINEERING SERVICES

Pressure Vessel Design and Construction: MSubs specialize in vessels for external pressure including hatch and large opening re-enforcement, hatches and dogging systems, foundation and lifting – all of which can be designed to meet the requirements of BS-EN PD5500.

Control and Navigation: MSubs has a complete systems integration capability, based on a wealth of experience in creating advanced navigation and control systems for underwater or surface vessels.

HP Gas and Hydraulics: They are able to design and construct bespoke high pressure gas systems including air and oxygen, as well as subsea hydraulic power packs, valves and actuators. This can include closed loop hydraulic position control.

GRP Tooling: Msubs can make GRP tooling of complex 3D forms. They start with your 2D sketches and build them into a 3D computer model. The pattern is then 5 axis CNC milled from foam and finished by hand to auto-body standard.

DC Motive Power Systems: They are familiar with high power battery and electrical distribution systems and custom brushless motor design.

OPERATIONS & SUPPORT

The Submergence Group operates submersibles world-wide in the:
1. Atlantic,
2. Gulf of Mexico and
They are adept at establishing submersible operating bases in local commercial marinas. Submergence Group's expert pilots and engineers all have extensive military and/or commercial submersible experience. In addition to providing the operational cadre for testing new submersibles.
SG's pilots and also train and qualify customer pilots and engineers train customer pilots and engineers on all aspects of submersible operations and maintenance.

CONTACTS

Submergence Group, LLC
12001 W Parmer Ln. Suite 105
Cedar Park, TX 78613
USA

+1 (512)580-3069

M Subs Ltd
Unit 42
Sisna Park Road
Estover
Plymouth, Devon
PL6 7FH, United Kingdom

+44 (0)1752 696 069
+44 (0)1752 696 510
contact@msubs.com

https://www.facebook.com/msubsltd/
https://www.linkedin.com/company/msubs-ltd/
LINKS & REFERENCE
https://marineai.co.uk/
https://mas400.com/
https://newsroom.ibm.com/then-and-now